Bisbee Blue Turquoise Nuggets Rough Large 10oz Wholesale Lot From Bisbee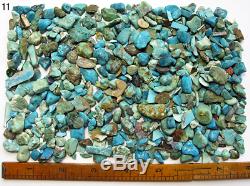 About this item(s): Big lot of turquoise nuggets including a lot of rare, dark Bisbee Blue. Some other turquoise types and other minerals may be present as this is an unsorted and uncleaned Arizona jeweler estate lot. Unknown if some nuggets are stabilized or not. Not colored or enhanced in any way. Edges and corners can also have hidden weaknesses and often produce crumbs or small fractures.
There is no way to test slabs without attempting to break them with applied pressure. We strongly suggest stabilizing or backing any slabs that could potentially break during any lapidary work.
We strive to describe each specimen as accurately as possible. In some instances, especially with third party or estate items, the original labeling may be missing, inaccurate or items may be altered without our knowledge. Some specimens, cabs and slabs may be quite fragile or have small imperfections like chips, stains, saw marks, dirt, discolorations or scratches. Hard to detect imperfections such as micro or hidden cracks may exist and in some rare instances specimens may be damaged during transit or unforeseeable faults discovered during cleaning or lapidary work. As it is with raw cabbing minerals, we do not guarantee the interior of specimens will reflect the exterior appearance.
However, its possible some third party specimens could be stabilized, repaired or altered without our knowledge. In some instances, stabilization or alteration processes may be very difficult to detect without damaging the specimen(s) for testing purposes. Some specimens may be seen wet or damp to show polishing potential and such specimens may appear dull when received. Some specimens may have old tag glue or other mounting residue on them. Some specimens are seen propped up and may not sit naturally in such positions without mounting supports or stands.
Some minor chipping or flaking is likely. Although we use a color calibrated monitor and natural daylight for pictures, color and contrast of received specimens may vary due to differences in color monitors and lighting. Origin of Minerals: We do our best to accurately list the discovery location of our minerals.
However, many of our specimens are acquired in large collections and some could be marked incorrectly beyond our knowledge. Specimen Odors: Some specimens, especially estate items, may have unusual odors due to long term storage with other minerals. This includes minerals stored with stabilized or cut specimens, which may exhibit the same odors of stabilization chemicals or cutting oils.
In most instances, the specimens will eventually lose these odors. Keywords: We often use "keywords" to assist buyers with finding our items during searches. Words related to the item(s) like "jewelry" are often used in the description although the item is not finished jewelry, but it could be used for jewelry. Non included items: Backgrounds, coins, stands, rulers or props used for photography or sizing are not included unless specifically noted in the description.
Images used in logos or for sampling of finished products are not included. Some of our profits are donated to Veteran and animal charities. We maintain these records on file.
The item "Bisbee Blue Turquoise Nuggets Rough Large 10oz Wholesale Lot From Bisbee" is in sale since Wednesday, September 27, 2017. This item is in the category "Collectibles\Rocks, Fossils & Minerals\Lapidary Materials\Rough for Cabbing". The seller is "bisbeeminerals" and is located in Bisbee, Arizona. This item can be shipped to United States.