HUGE -GANGSTER, MOB collection- figures, photo's, & more- Gotti, Capone-MUST SEE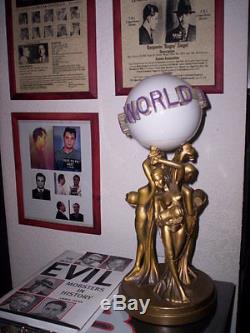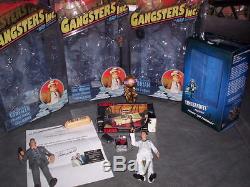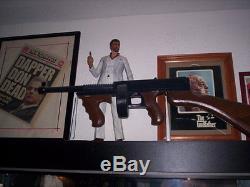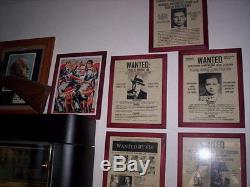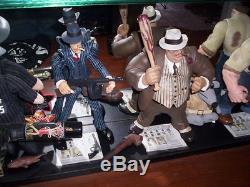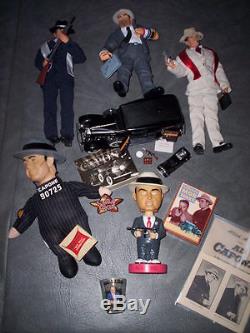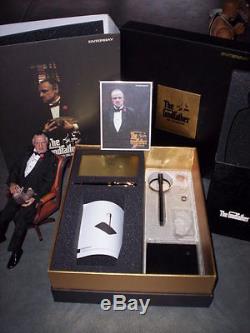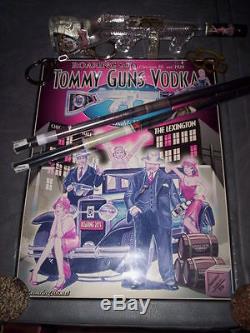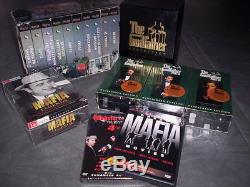 Welcome to giftsgalore24-7 " where we have tons more in our Store"... THIS LOT IS ON CONSIGNMENT, we cant break up this lot at this time, so please dont ask.... Please, look at all the pictures & ask any & all questions,,,. Up for your consideration we have this nice, pre-owned, HUGE, Gangster & Mob collection.... From Al Capone to John Gotti, this collection has it all....
BELOW is a detailed list of all the items in this collection.... Everythings in nice condition, however nothings perfect, some have bumps & bruise's & some have repairs.... STOP BY AND MAKE US AN OFFER WE CANT REFUSE...
ALSO INCLUDED IN COLLECTION: also included today will be our favorite piece of all, an Original 1930's - 40's 14kt gold pocket watch with chain given to our Uncle Lou Giacalone from one of Capone's men, either Albert Alselmi or John Scalise.... These two men were killed by Capone himself after finding out they were plotting against him to take over the outfit....
He killed them with a baseball bat at a party he threw for his men at the Lexington Hotel in the late 30's.... This is the famous "Mob Justice" photo we also sell in our store & included in this collection.... The pocket watch still winds & will run with a proper tune up....
But now its not running.... Given to Uncle Lou Giacalone at the family owned "Standard Oil gas station" in Chicago when he was only 10 years old.... We sadly lost Uncle in 2002.... But his stories will forever live on.... Scarface: "The World is Yours" statue & lamp.... New bulb & A/C adaptor.... Had repair work done on one of the lady's arm & water jug.... Scarface: "The World is Yours" mini statue.... Had repair work done on some of the purple letters....
1963 Cadilac with scene & figures (tony montana, tiger, palm tree, etc).... Series 2, new "sealed" (pic 2).
Scarface: (2) Tony Montana figures.... 18" tall, motion sensored, "talking & poseable.... Both pre-owned (pic 2 & 3). Full size wooden "hand made" Tommy Gun.... 10 Wanted posters, all copies, not original, (Luciano, Capone, Anastacia, Costello, Bugsy Segal, John Gotti, Dillinger, Baby Face Nelson, Machine Gun Kelly & Pretty Boy Floyd), all 8x11....
"Mob Justic" photo in color, 8x10....1972 Original, Godfather, the movie, program.... John Gotti's, New York Post, Death Announcement "full paper"....
1972 Original, Life Magazine, The Godfather, starring Brando "not pictured".... ALL HAVE GLASS NO PLEXY.... (pic 1,3 & 4).
9tall figures with original packages, by Mezco.... Don Moncinni, aka "Diablo Don".... And, Frankie Forman, aka "Grim Reaper".... All come with original accessories.... Original, Authentic, "Signed with COA", Henry Hill ice-pick....
The original Goodfella turned RAT in the movie "Goodfella's" starring Ray Layota.... NOW GO GET YOUR SHINE BOX.... Original, Tommy Guns Vodka, store display, "laminated" poster.... Tommy Gun Vodka, "SEALED" bottle, gun shaped....
"The Last Sit-Down" & "The Dons Bluff".... Complete set, 10 Vhs tapes, The Mafia: An Expose, from Capone to Gotti.... NEXT: The Godfather, 1,2, &3, (widescreen edition) SEALED, Vhs box set.... NEXT: A&E's, Mafia Legands, 4 dvd's, Lucky Luciano, Al Capone, Bugsy Segal & Mob Hitman.... NEXT: 3, Mafia Movies on Dvd, starring Jake Lamotta & Joe Pesci, (early Pesci)....
NEXT: (4) Mobster Movies on Dvd, starring Lenard Nemoy & Yul Brennor (early years).... Hardback copy: The Most Evil Mobsters In History, by Lauren Carter.... (pic 1) NEXT: The Fall of the Godfather: Boss of Bosses, the FBI & Paul Castellano: by O'Brien & Kurins, paperback not pictured but included...
14: Al Capone, 1/24 scale diecast, 1930's Armored Cadilac.... Fully detailed, opening hood, doors & accessories (hat, tommy gun, briefcase)....
NEXT: Al Capone bobble head with tommy gun, 6tall.... NEXT: Al Capone "prison" stuffed plush, plastic face, 9tall, new with tags.... NEXT: Al Capone "shot glass" 2tall, Alcatraz, figure in shotglass play'n cards.... NEXT: Original, Allied Artists, 1950's, play booklet, "Al Capone" starring Rod Steiger....
NEXT: (2) 12tall, fully poseable, St Valentines Day Massacure Hitman figures with accessories, pre-owned.... NEXT: TimeBandits, 9tall, Al Capone figure, MIB.... NEXT: Elliot Ness-Vs-Al Capone, in "Chicago Mob Wars", complete boxed card set, "signed" by creator, George Hagenaver.... 15: Original, 1930's, "Big Bill" Thompson campain button & 1930's, Jim Colosimo's Match book with all matches & "Vote For Bill Thompson" advertisement....
Bill Thompson was the Mayor of Chicago in the 20's & 30s & only was elected then re-elected because of Al Capone.... 16: Original, Certified, St Valentines Day Massacre photo, NO RE-PRINT, ORIGINAL.... One sings "New York, New York", the other only talks (you dirty rat, etc)... Internal batteries, no guarantee on battery life....
18: Complete set of "The Simpsons" mobsters, Fat Tony, Don Vito, Leggs, & Vinnie, tons of accessories, guns, knives, milk container, paint gun, cash, & more.... 19: Complete set of "The Palarmo's", Italian Family, 24pc's, 1tall (very small).... 20: Warner Bro, Bugs Bunny cartoon gangsters, "Rocky & Mugsy", 4" & 6" tall.... 21: Enterbay's, 1/6th, 2009 Collectors Edition, "The Godfather" Don Vito Corleone....
Comes with original Box, sleeve, ball point pen, "Gold Plate" COA, all accessories, (figure, cat, rose, leather chair, extra hand, watch, & figure stand) all paperwork.... 2013, Soprano's Star James Gandophini Dead, full New York newspaper, mint condition (not pictured, but included). Mob hitman turned RAT "Frank Cullotta" signed Ace of Spade's playing card from Freemont ST, Chicago... COA from Henry Hill Inc.
Al Capone gold tone & silver collector coin in protective case.... Soprano's COMPLETE SERIES on DVD, 33 discs, SEALED... John Gotti original "swatch" piece of clothing on card.... John Gotti, Andy Warhal, Time Magazine, "Mafia on Trial" magazine, framed in glass, complete magazine (not pictured). Donnie Brasco, "My Undercover Life in the Mafia" hard back book with slip cover, SIGNED by Al Pacino on cover....
The Mob Box, 4 disc DVD set, Donnie Brasco, Snatch, Bugsy, & The American Gangster.... Viewed once, great condition (not pictured). The Godfather "adult" board game, 1971, 100% complete, nice condition, (not pictured). Scarface, Tony Montana, bobble head in car, NIB, super condition, large piece, (not pictured). Lego: Mini gangster with machine gun, (not pictured).
Al Capone shot glass with mini Al in center holding gun.... John Gotti autograph (reprint) on New York skyline paper.... (2) Al Capone autographs (reprints) on period paper.... Ace of spades & Chicago skyline....
Big Al & his hitman.... Musical 3pc gangster's with guns.... Joseph Bonanno "signed" bank check with photo.... 1963 Original, The New York Mirror Newspaper, "Valachi Sings" first RAT to testify against Mafia.... Save the Rock: Alcatraz original piece of the "ROCK"....
Mafia, The Inside Story: 5 DVD's set.... 41: The Godfather, Set of 4 Vinyl figures.... 42: Victoria Gotti, AUTOGRAPHED, Hot Italian Dish Cookbook.... 43: HUGE, 1/10th scale, R. Remote control, "The Soprano's Cadillac Escalade SUV".
With working headlights, turn signals, horn, music, "wheel spinners".... This Collection will not disapoint its new owner, GUARANTEED! STOP BY AND MAKE US AN OFFER " WE CANT REFUSE"! We also will include tons of Mob items not even mentioned....
USA buyers calculate to your door... We try to describe all of our items to the best of our ability & we stand behind all our items.... Your satisfaction is our Priority... We have new items weekly so. Stop by and make us an offer we cant refuse. The item "HUGE -GANGSTER, MOB collection- figures, photo's, & more- Gotti, Capone-MUST SEE" is in sale since Wednesday, January 16, 2013.
This item is in the category "Collectibles\Historical Memorabilia\Mobs, Gangsters & Criminals". The seller is "giftsgalore24-7" and is located in Belleview, Florida.
This item can be shipped to United States.
Country/Region of Manufacture: Unknown
Country of Manufacture: Unknown
Al Capone, John Gotti: Dillinger, machine gun kelly, Luciano
lamps, figures, magazines,: photo's, tommy gun, original art work, posters,
mafia video's Vhs & Dvd: posters weapons
Mob gangsters: Capone Gotti Dillinger