HUGE NASA Space Collection- 50% DISCOUNT! - Models, Prints, Autographs, Dioramas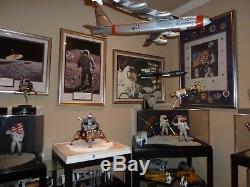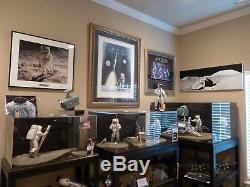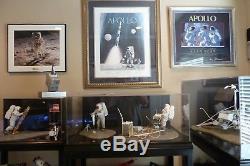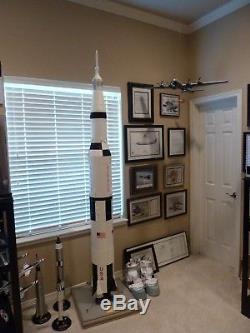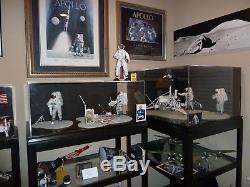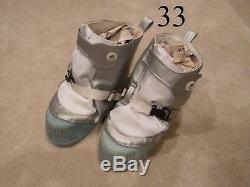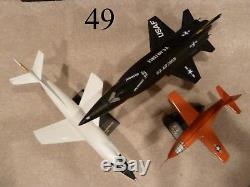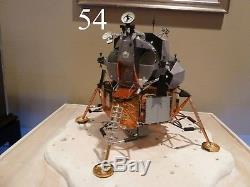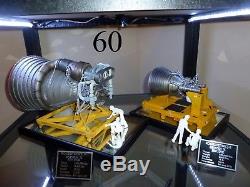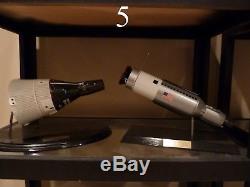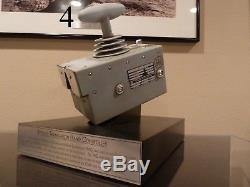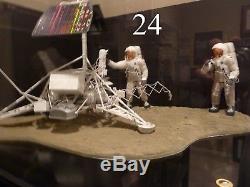 This is an extraordinary opportunity for the serious collector. The Museum covers the U. Aviation and manned spaceflight highlights from 1947.
In that of 25 years U. Aviators went from breaking the sound barrier through six missions to land a man on the moon. Museum chronicles the men and the unique equipment they piloted to achieve those goals- a period of history unparalleled and one that will not. Thats a 50% discount over retail. Below you will find a complete inventory and pricing of all items for sale.
Numbers on the left coincide with the numbers found on Photobucket-the link can be found below. Simply copy the entire link and paste.
You can run a slideshow and it will display the pics in numerical order. Far right are prices; the first price is the advertised price currently available on certain websites.
Or if no longer available or a one off item. An explanation is included as to how that price was arrived at. Feel free to print the entire listing so that you may compare the list to the pics on Photobucket. If you have any questions, please let me know.
Iconic photo of Apollo 11 Astronaut Buzz Aldrin, signed; image size 15 X 19. Framed out to 20 X 24. AP-17 diorama, The Last Footprint 15.5" X 29" X 15h, stand, display base, model and Plexiglas.
Full scale Command Module Translation Hand Controller by Michael Key.. Scale Gemini and Agena, by Proach per his website Gemini.. The Fantasy diorama, 15" X 21.5" X 15h, modeled to replicate Al Beans painting.
Rasmussen Apollo with Lovell, Armstrong, Shepard and Cernan signed in bold pencil, #194 of only 250. Novaspace offer to me 3 years ago. Image size 29.5 X 23.5 framed out to 33 X 39. Close up of #8, Cernan.
AP-16 diorama, Charlie 22.5" X 37.5" X 16h, stand, display base, model and Plexiglas.... Scale Proach made ALSEP instruments. Scale Mercury commissioned build w custom stand.. Close-up of interior of #52.
3 X 5 Card signed by Max Faget and Mercury Liberty Bell acrylic.. Capsule Flight Operations Manual covers the early Mercury/Redstone ballistic flights : Capsules 11 and 15, NASA.
SEDR 109, arranged similar to the Air Forces Dash-1, dated 30 January 1961, includes Normal Procedures, Emergency. Procedures, Trouble Shooting, and an Astronauts Check List (sic) on heavier pale yellow card stock, I have never seen. One these anywhere and cannot remember when or where I found this one. Therefore the price is completely arbitrary. Autographed cover page from #19, signed by Chris Kraft.... Scale WWII pilot figures and accessories..... Scale F-16 and Apollo Astronaut figures.... Bean The Fantasy litho signed by Bean and Andy Chaikin, image size 21 X 24, framed out to 26 X 29. This diorama also includes a Nick Proach built 1:6. Only two I believe were made.
The prototype was commissioned by Al Bean. Thunderbirds in formation with machined rotating stand that allows the Thunderbirds to do a complete roll in formation. Thunderbirds doing a roll to show their undersides. Nick Proach built collection; all in 1:48.
Scale, current prices available on his website.. Scale Saturn V, this model is 8 feet tall; his current w. Scale B-29 with accurate markings; commissioned build plus.
Scale B-52 (0003) with pylon and accurate X-15 launch markings... Scale X-15 & T-38 chase aircraft.... Hall Of Fame print, signed by Crossfield and framed.
X-15 photo, framed and signed by Robert White first to Mach 4,5 and 6.. Color framed and signed by Pete Everest, once the fastest man alive.. B&W photo and handwritten letter, framed and both signed by Milt Thompson. One of only 12 to pilot the X-15. Signed B&W photo of Slick Goodlin, first to fly the X-1, replaced by Yeager.
Framed copy of all Mercury 7 astronauts printed autographs. Framed copy of all Gemini astronauts printed autographs. Al Bean Litho Home Sweet Home number 30 of a very limited edition of only 85, image size of 18 X 29 framed out to 23.5 X 34.
AP-15 diorama, Salute To The Flag 18" X 33" X 15h, stand, display base, models. Large scale experimental aircraft collection.. Scale Saturn V mounted horizontally, size 62 X 12 under Plexiglas, custom built with machined supports to match the different. Al Bean litho The American, number 33 of a very limited edition of 150 signed by Bean, image size 16 X 26.5 framed to 22 X 33. Lunar Module commissioned work by Steve Nichols; with folded. Rover, stand, 21.5" X 24" X 16h display base and Plexiglas (yet to be painted). Framed litho by Ron Woods, image 21.5 X 30.5; framed out to 27 X 35; signed in bold Sharpie by Gene Cernan; currently out of stock.
AP-14 diorama, The First One Was A Slice 25" X 30" X 16h, stand, display base, models. Scale CM cut to show interior..... Signed by 20 Apollo astronauts. Saturn V F-1 engine model, and Large Scale 1:20.
The J-2 was a commissioned build............ Both include framed mirrored bases, plaques and 4 figures.....
AP-11 diorama, Magnificent Desolation 15.75" X 33.75" X 14.5h, stand, display base, models. Example of engraved plaque and mission patch mounted on every Apollo diorama. Copy of signed Apollo-11 crew..... Charlie Duke signed typed letter, with special mat and framed out to. Charlie Duke hand written and signed letter, framed out to 11X 14....
One of a kind transcribed letter from a speech given by Gene Cernan, signed..... In addition to the pictured items listed above the Museum includes. 32 autographed books (mostly astronauts); Complete list follows. 116 unsigned books; aviation and space related; all in excellent condition; Complete list follows. 100 video tapes and 35 DVDs ; All tapes and DVDs.
AUTHOR AUTOGRAPH (insp=inscribed to me). Yeager (Leather bound 1 of 500) Gen. The Last Man on the Moon Gene Cernan w Don Davis Gene Cernan. Lost Moon Jim Lovell & Jeffery Kluger Jim Lovell. The Untouchables Brian Shul & Walter Watson insp.
Countdown to a Moon Launch Jonathan Ward insp. The Birth of NASA Dutch von Ehrenfried insp. The Holloman Story Greg Meter John P. The Unbroken Chain Guenter Wendt & Russell Still Guenter Wendt/ Russell Still. Magnificent Desolation Buzz Aldrin & Ken Abraham Buzz Aldrin.
Men From Earth Buzz Aldrin & Malcolm McConnell Buzz Aldrin. Rocket Men Craig Nelson Craig Nelson. Leap of Faith Gordon Cooper Gordon Cooper. The Last Man on the Moon Eugene Cernan & Don Davis insp. Two Sides of the Moon David Scott & Alexei Leonov Dave Scott.
Moonwalker Charlie & Dotty Duke Charlie Duke/Dotty Duke. SR-71 Blackbird Richard Graham Col. A Man on the Moon Andrew Chaikin insp. Failure is not an Option Gene Kranz Gene Kranz and seven other controllers.
To Fly and Fight Col. Go, Flight Rick Houston & Milt Heflin insp. Failure is not an Option Gene Kranz insp. Scott Crossfield & Clay Blair insp. Moonshot Alan Shepard & Deke Slayton Al Shepard. The Fastest Man Alive Lt. To Rule the Night James Irwin & William Emerson insp. Voices From the Moon Andrew Chaikin insp. Apollo Alan Bean & Andrew Chaikin insp. COMPLETE LIST CONTAINING 116 BOOKS. Two Sides of the Moon David Scott & Alexei Leonov. Live From the Moon Dwight Steven. Chariots For Apollo Brooks Swenson. First On The Moon Armstrong Aldrin Collins. Genisis: The Story of Apollo 8 Zimmerman.
Lunar Module Orientation Guide Apogee Books. Carrying The Fire Michael Collins. Saturn V Flight Manual Periscope Films. Apollo: The Epic Journey to the Moon Reynolds.
But For the Grace of God Pogue. Apollo 12 On the Ocean of Storms Harland. Angle of Attack: Harrison Storms and the Race to the Moon Gray.
Building Moonships: The Grumann Lunar Module Joshua Stoff. Apollo Spacecraft Command and Service Manual NASA. Lunar Module LM 10 thru LM 14 Vehicle Familiarization Manual Periscope Films. For Spacious Skies Scott Carpenter. Countdown: A History of Spaceflight Heppenheimer. Inventing the American Astronaut Hersch. All We Did Was fly to the Moon Dick Lattimer. Carring the Fire Michael Collins.
Higher and Faster Robert White. The Last Man on the Moon Cernan. How NASA Learned to Fly in Space Apogee Books. Apollo 8: The NASA Mission Reports Apogee Books.
Lost in Space Greg Klerkx. A Century of Manned Flight Richard Bickers. Spaceshots and Snapshots of Projects Mercury and Gemini John Bisney. Moonshots and Snapshots of Project Apollo John Bisney.
The Smithsonian Book of Flight Walter Boyne. Picture History of Early Aviation Stoff. Charles Lindbergh: A Photographic Album Stoff.
Charles Lindbergh: The Spirit of St. Lindbergh: The Lone Eagle George Fife. Apollo Lunar Roving Vehicle Operations Handbook NASA. Results of the Second U. Manned Suborbital Space Flight NASA.
Apollo 11 NASA Mission AS-506 Haynes. Chuck Yeager and the Bell X-1 Dominick Pisano. X-15: The Worlds Fastest Rocket Plane John Anderson.
The Quest For MACH One Chuck Yeager. Apollo Expeditions to the Moon NASA.
To The Moon: The Story in Pictures Time-Life. How We Invented the Airplane Orville Wright. Edwards Air Force Base Steve Pace. Lockheed SR-71 Blackbird Pilots Flight Operations Instructions Lockheed.
North American X-15 Rocket Plane Pilots Flight Operations Instructions North Amer. Into the Unknown Louis Rotundo. Lockheed SR-71 Operations in the Far East Osprey. Hypersonics Before the Shuttle Jenkins. We Seven By the Astronauts Themselves.
At the Edge of Space Milt Thompson. The Day I Owned the Sky Robert Scott. X-15 Photo Scrapbook Landis and Jenkins.
The X-15 Rocket Plane Evans. X-15: The NASA Mission Reports Apogee. Man On The Moon Chaikin. Enola Gay Thomas and Morgan.
First on the Moon Armstrong Aldrin Collins. Project Gemini: A Chronology NASA. On the Shoulders of Titans NASA. Remembering the Giants John Stennis Space Center. Last Man on the Moon Cernan. Failure Is Not An Option Kranz. MUSEUM VHS TAPE AND DVD COLLECTION. The NASA Space Series Collection 6 tapes. One Gaint Leap 1 tape. Apollo 17: Final Footprints on the Moon 1 tape.
Modern Marvels Jet Engines 1 tape. Building and Test Flying the Boeing 727 & 747 1 tape.
Live From the Moon 2 DVDs. X-15, The Edge of Space 3 DVDs. Project Gemini : A Bold Leap Forward 3 DVDs. Project Mercury : A New Frontier 6 DVDs. Mission Control : The Unsung Heroes of Apollo 1 DVD.
The item "HUGE NASA Space Collection- 50% DISCOUNT! - Models, Prints, Autographs, Dioramas" is in sale since Friday, September 14, 2018. This item is in the category "Collectibles\Historical Memorabilia\Astronauts & Space Travel\NASA Program". The seller is "moonguyron" and is located in Central Texas . This item can't be shipped, the buyer must pick up the item.