I Love Lucy Comics #1 to #35. Complete set! A great gift! Ship anywhere free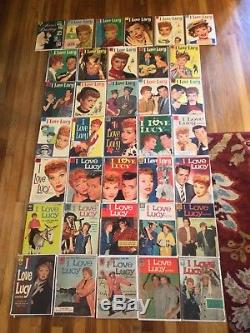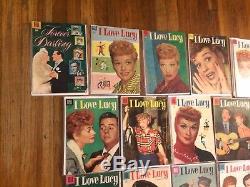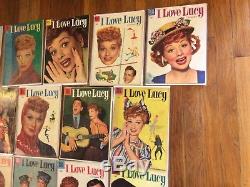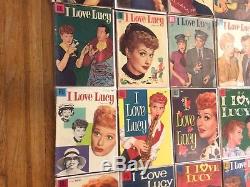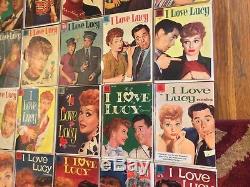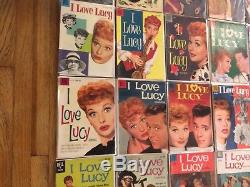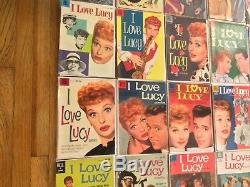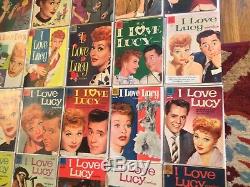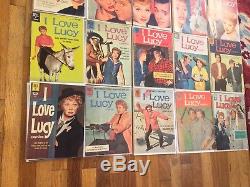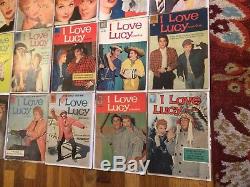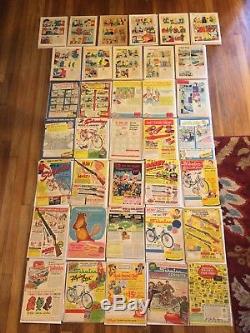 Another great set of classic comic books from Oldcomix! Beauties from the old vault.
Take a look at my feedbacks. Serious collectors love my comics, my service and my prices. You always get a nice deal from me. My comics are always clean decent books with no cut outs nor pages missing. This run of I Love Lucy begins 1954 and ends 1962.
The last few issues are the harder ones to find in good shape since the TV show had ended in 1957, went into syndication, and sales slowly dropped off the table. All stories drawn by the same artist: the artist is unknown but the pencils may have been Bob Oskner and inks by???
All of these books have reading wear, some more than others and as a result grades have been altered accordingly. Here is what you get.
FC #535 (#1) has front corner creases but pages are white. 4.5 to 5.0 grade (out of 10.0). FC #559 (#2) is a 3.5 reading wear. Green cover, off white pages.
Green covers in the 1950's are the hardest to preserve next to black. #3 is a nice 5.0'calling Ricky' cover with pencil arrival date. #4 is a very good 4.0 classic mid-50's'quad' cover - first Ricky photo. #5 is a nice 4.0 with'hillbilly Hi!
#6 is a very good plus 4.5 green - first couple cover. #7 is a very good 4.0 near white pages'fishing cover' August-October 1955. #8 is a good 2.0'winter cover. Will replace if I get a better copy.
#9 is a good plus 3.0'crooner admiration society' cover. Nibbles and nearly white pages. #10 is a good plus 3.5'salsa photo' cover. Creases and off white pages. #11 is a 4.0'light the master's cigarette' green cover. #12 is a 4.0'hat shopping' cover. #13 is a 3.5 near very good'train conductor' cover. #14 is a 4.0'telephone cover' no foxing and near white pages.
This issue is hard to find for some reason. #15 is a 3.0 good plus'scolding' cover. Tanning pages and slight warping with chips. #16 is a 4.5 white cover reading creases,'wide eyeballs' cover. #17 is a fine 6.0 yellow'saxophone' cover.
#18 is a sharp 7.0'glamour' Lucy cover. Barely read, white pages, nice copy. #19 is a 3.0 g reen'singing love' cover. Off white pages, edge chips. #20 is a 4.0'glamour eyeballs' cover.
Spine r ool but white pages. #21 is a 4.5'wide eyeballs' cover with white background minor foxing noted. #22 is a decent 5.5'party eyeballs' cover. #23 is a 3.5'couples' cover with a red background that usually fades. #24 is 4.0 with classic TV slapstick'new orleans ball costume' cover.
#25 is a 3.0'wise guy couple' cover with light tan pages. #26 is a nice 5.5'donkey' green cover. #27 is a 3.5'warrior cover' is that Ricky? #28 is a good 2.0'camping cover'.
They likely never gave that away. #29 is a 4.0'goofy cuban music' cover. Little boy writing inside pencil (cute). #30 is a 2.5'wanderers' cover. Spine roll, off white pages. If I get a better I will replace this.
#31 is a decent 5.5'Lucy Clown' cover. #32 is a 5.0 and harder to find'Lucy drives ice wagon' cover. #33 is a 4.5 grade weird'Lucy flagman in the desert' cover. Dell promoted tearing the cover in half and mailing it in with coupon for discounts during late 1961.
#34 is a 3.5 grade'scared in basement' cover with off-white pages. #35 is the rarer 2.0 last issue' chieftain how' cover. I'll try to get a better one. FC #681 "Forever Darling" Ball-Arnez movie comic. 2.0 with chips out. Surprising more Dell movie comics weren't made such as The Long Long Trailer. I have never had a return -- so that would be a first! The item "I Love Lucy Comics #1 to #35. Ship anywhere free" is in sale since Sunday, October 15, 2017. This item is in the category "Collectibles\Comics\Silver Age (1956-69)\Movie, TV & Music". The seller is "oldcomix" and is located in Covina, California. This item can be shipped worldwide.