Part 1 Game and Hardware Collection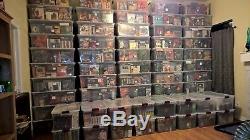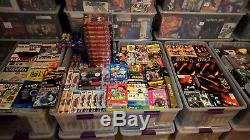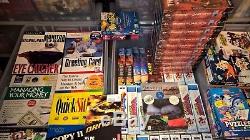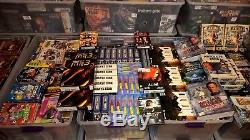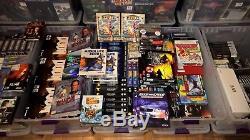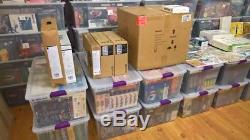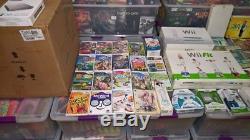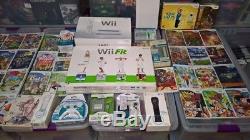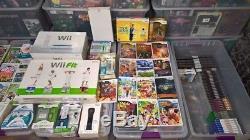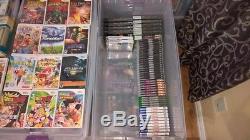 Scroll down, check back daily. He listing is in progress, it is being updated daily. 9/27/2018: Now that I have reached bin 20. I will breakup the software by adding in some hardware. StarCraft Brood War Expansion Set.
StarCraft Insurrection (campaigns for StarCraft). WarCraft 2 Tides of Darkness. WarCraft 2 Beyond the Dark Portal Expansion Set.
WarCraft 3 Reign of Chaos Collectors Edition. Warhammer 40,000 Rites of War. Warhammer 40,000 Rites of War (English, UK).
Warhammer 40,000 Chaos Gate. Warhammer Shadow of the Horned Rat. Age of Wonder Shadow Magic.
Age of Wonder 2 The Wizard's Throne. A Series of Unfortunate Events Chilling Fun 2 Pack. Disciples II Gold Rise of the Elves.. Disciples II Servants of the Dark. Disciples II Rise of the Elves..
Baldur's Gate 2 Collector's Edition Shadows of Amn. Baldur's Gate II Shadows Of Amn. Baldur's Gate II -Throne of Bhaal (The Final Chapter). Baldur's Gate Tales of the Sword Coast.
Forgotten Realms The Archives Collection One.. Forgotten Realms The Archives Collection Three... Icewind Dale a Baldur's Gate Engine Adventure.. Leisure Suit Larry Magna Cum Laude.. Passionate Patti Does A Little Undercover Work 5. Leisure Suit Larry Passionate Patti Pulsating Pectorals. Goes Looking for Love in Several Wrong Places. Blood Omen Legacy of Kain.. Turok 2 Seeds of Evil. Die Hard Trilogy 2 Viva Las Vegas. Arc of Doom The Chaos Continuum.. B-17 Flying Fortress The Mighty 8th..
Jane's ATF Naval Fighters. Jane's Flash Point Korea.
Jane's 688(I) Hunter/Killer. Janes IAF Israeli Air Force. Top Gun Fire At will. Top Gun Hornet's Nest.
GTR 2 Fia GT Racing Game of The Year. Driver You Are The WheelMan. NHRA Drag Racing Joe Amato.
NHRA Drag Racing 2 Ron Capps. NIRA Intense Import Drag Racing. Doom 3 Resurrection of Evil. Anne McCaffrey's Freedom First Resistance. D-Zone 2 For Doom and Doom 2. Doom The Complete Original Megahit.
Flashback The Quest for Identity. South Park Official PC Game. Kane and lynch Dead Men. SpellForce The Order Of Dawn. Nights 2 Masks of the Betrayer.
Nights Hordes of the Underdark. The Legend of the Coffin Rock.
Legends of Might and Magic. Rayman 2 The Great Escape. The Four Crystals of Trazere. Ultima Underworld The Stygian Abyss.
The Simpsons Hit and Run. Bugs Bunny Lost in Time.
Sport Tycoon Football Mogul 2007. Lego Island 2 The Bricksters Revenge. Grand Theft Auto Classic Collection. They Call Me Skull + The Suit. Uncle Albert's Mysterious Island.
Asherons Call 2- Fallen Kings. Brothers in Arms --Road to Hill 30. Prince of Persia--The Sands of time. Angel Devoid--Face of the Enemy. Leisure Suit Larry 5 Passionate Pattie Does A Little Undercover Work. Light and Darkness The Prophecy.
Prince of Persia The Sands of Time.. Rage of Mages - Unleash The Magic.
Sam & Max Hit the Road. The Cycles International Grand Prix Racing. Fear: First Encounter Assault Recon.. Sword of the Stars Ultimate Collection..... The Temple of Elemental Evil 315. Blood II The Chosen The Nightmare Levels 318.
Close Combat: Battle of the Bulge..... Commandos Behind Enemy Lines 321. Elder Scrolls Daggerfall Chapter 324. Incoming forces: Prepare for the invasion..
Necronomicon The Gateway to Beyond 334. Nightmare of the Werewolf 335. Soldier of Fortune Gold Edition..... The War of Worlds 343. Waterworld The Quest For Dry Land 344.
You Don't Know Jack 346. You Don't Know Jack XL 347.
You Don't Know Jack Sports 348. You Don't Know Jack Television and TV Games. Konan 2 Kings of War. Eon Siege Legend of Aranna. Dungeon Siege 2 Broken World.
Marc Ecko's Getting Up. Phantasmagoria A Puzzle of Flesh. You Don't Know Jack (Party Game -TV). You Don't Know Jack (Sports-Quiz Show). You Don't Know Jack. XL (X-Tra Large)-The Irreverent Quiz Show. Sins of a Solar Empire.
Of Riddick Escape From Butcher Bay DC. Atlantis The Lost Empire Trial by Fire. Emergency Room Life or Death. The Ultimate James Bond an Interactive Dossier. The Incredible Hulk (new, CD).
The Lord of The Rings War in the North. The Lord of The Rings The Return of the King. Dark Reign Battles of the Outer RIm. Dark Reign Expansion Rise of the Shadow Hand..
Dune 2 The Building of a Dynasty. Gabriel Knight Sins of the Father.
The Curse of Monkey Island. The Elder Scrolls III Morrowind GOTY Edition. The Lord of the Rings The Fellowship of the Ring. The Lord of the Rings Collectors Edition Two Towers.
Neverwinter Nights- Shadows of Undrentide. Star Trek Elite Force 2.. Star Wars Galaxies An Empire Divided.
Frank Thomas Big Hunt Baseball. Star Trek Chekov's Lost Mission. Star Trek Starfleet Command Volume 2.
Star Trek Starfleet Command III. Star Trek Starfleet Command Neutral Zone. Star Trek Deep Space Nine Companion. Star Trek Deep Space Nine Dominion Wars.
Star Trek Deep Space Nine Harbinger. Star Trek Deep Space Nine The Fallen. Star Trek Federation Gift Pack. Star Trek Klingon Honor Guard. Star Trek Starfleet Academy Rare Figurine.
Star Trek Voyager Elite Force. Elite Force Collector's Edition. Star Trek Voyager Elite Force Expansion Pack..
Company of Heroes Opposing Fronts.. Age of Sail II Privateer's Bounty. Oregon Trail 3rd Edition Pioneer Adventures.
Man of War II Chains of Command.. The Ancient Art of War at Sea. Care Bears Catch a Star. Batman Forever The Arcade Game. Druid Demons of the Mind..
Harry Potter and The Chamber of Secrets. Harry Potter and the Sorcerer's Stone. Milton Bradley Classic Board Games. Roller Coaster Tycoon Corkscrew Follies..
SU-27 Squadron Commander's Edition.. Collection Volume 3 Modern Warfare. Wild Wild West The Steel Assassin. Kohune 2 Blood of Titans. Law and Order Criminal Intent..... Law and Order Double or Nothing 2..... Beavis and Butt-Head BungHole in One.....
Beavis and Butt-Head Calling all Dorks. Beavis and Butt-Head DO U.....
Beyond Atlantis Your Journey Awaits. Dracula 3 The Path of the Dragon 606. Eagle Eye Mysteries in London.
Flash Traffic City of Angels. Indiana Jones in the Infernal Machine. Myth 3 The Wolf Age. The Journeyman Project 2 Buried in Time..... Alone in the Dark 2. Arthur's Knights Tales of Chivalry. CatDog Quest for the Golden Hydrant..... Comedy Central: It's All Relative. Die by the Sword: Limb from Limb.....
Jagged Alliance 2 -Unfinished Business. Redneck Rampage Suckin Grits on Route 66. Road to India-Between Hell and Nirvana. Final Stretch Horse Racing Simulator..... Off Road Racing: All American.
Moto Harley Davidson Cycles: Race Around the World. Moto Harley Davidson Cycles: Wheels of Freedom. Rally Championship: International Off Road Racing. Black and White Creature Isle Expansion Pack. Spirit Stallion of the Cimarron... Advanced Dungeons and Dragons Collector's Edition. Crusaders of Might and Magic. Game Collection: Incredibles and 2 Finding Nemo.. Heroes of Might and Magic The Strategic Quest. Might and Magic Clouds of XEEN. Might and Magic Darkside of XEEN. Might and Magic Dark Messiah. Might and Magic VI The Mandate of Heaven. Might and Magic VII for Blood and Honor.
Might and Magic VIII Day of Destroyer. Roller Coaster Tycoon Loopy Landscapes. You don't know Jack HUGE XXXL.
The item "Part 1 Game and Hardware Collection" is in sale since Friday, September 14, 2018. This item is in the category "Video Games & Consoles\Video Games". The seller is "strategies-change" and is located in Katy, Texas. This item can be shipped worldwide.
Publisher: Nintendo
Brand: Nintendo