Tales From The Crypt and Crypt of Terror #17 to #46 full set. Free ship to world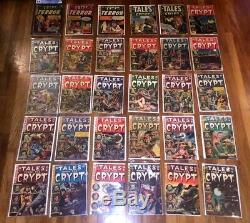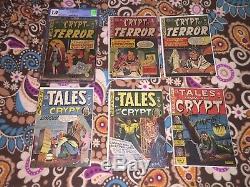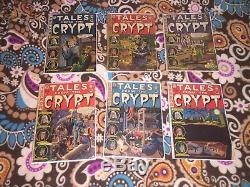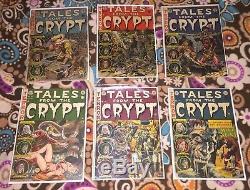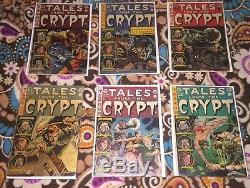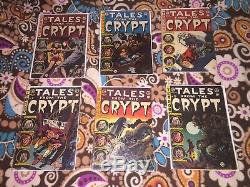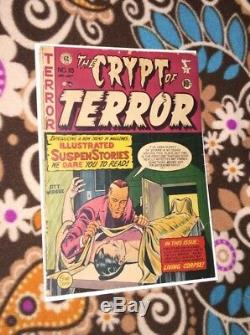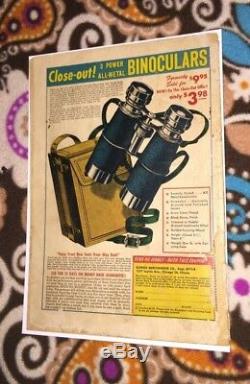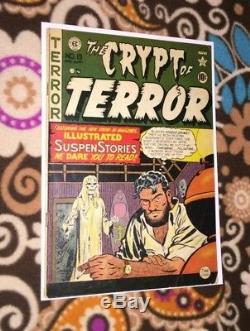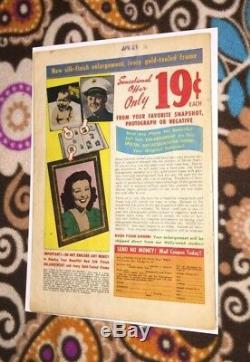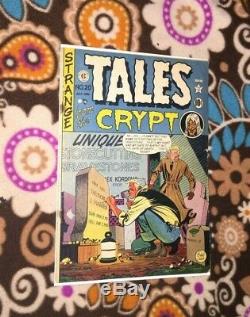 This entire set of the Crypt of Terror #17, 18, 19 and Tales From The Crypt #20 through #46 ranges from above average down to reader copies. No near mints or VF in this set. You want them all at one time?
Here it is, and you can read most of them. 30 copies in this set. I have posted some TFTC singles on the start date of this set so check those out too. This title is THE classic 1950's horror book. You cannot get any better quality stories than those found in these ish'es.
And ---- I say it again --- you can actually read and handle most of these without fear. Lowballing this set gets an automatic No, so if you want to make an offer make it reasonable. I will not answer what will you take for it? All comix are complete and any restoration has been described. So here we go on my subjective grading opinions.. Crypt of Terror #17 fair 1.0. I think I found this copy about six years ago in a Tennessee collection and somebody slabbed it since. Crypt of Terror #18 fair to good 1.8. Cf loose, mothball odor, some insect spine damage on reverse.
Crypt of Terror #19 3.0 to 3.5 there was a CGC tag inside this book when I got it but not sure if it belongs. Looks VG 3.5-4.0 to me but has a bit of water waviness on the back cover.
Still has some gloss, and this is a nice solid copy. Tales From The Crypt #20 looks very good 4.0 but this has staple rust and slight mothball odor call it 3.0.
About the same as the #20 above except it has small insect nibbles - may be from the same basement. Clean VG 3.5 with foxing, folds and a bit of soiling. 3.5 grade nice book, could use a pressing. Poor, reader, complete but this book with spine tape and taped in trimmed centerfold from possibly another issue. Not a bad copy, slight spine roll a few stains.
Call it 3.5 to 4.0 very good grade. This purple cover does not preserve well this one has slightly blued. 2.5 grade water drop front cover, spine roll, folding. 3.0 grade nice, foxing. 2.0 good, chippy cover, spine roll, light tan supple pages.
1.8 reader copy nearly a good but with some insect damage and miscut at printer. 5.0 near fine, solid book, good looking copy.
5.0 to 5.5 looking. A few small tears, scribble. 4.0 awesome Davis mummy circus cover. Sorry no better than a 4.5 got duped on that one. 2.0 weak spine, splits, loose cover, SOTI story.
Mucho folds needs a pressing. Cool werewolf in graveyard cover.
Book has old scotch tape inside cover. This copy doesnt look too bad in the sleeve.
3.0 to 3.5 with 1 front cover tear, water spots, good pages, nice vampire cover. Poor-fair reader copy, great moon zombie cover. Tape inside spine, pieces out.
3.5 to 4.0 light waterspot, green cover has light fade, average wear overall. Really beautiful near Fine looking copy but has clean archival tape repair inside spine. I'm sure when the Senators saw this issue they held Gaines in disdain: ghoul with knife chasing little boys in spooky graveyard. 3.5 green cover fades easily this did not.
3.5 clean decent copy, scribbles back cover. 4.0 average reading wear, unfaded bright blue cover. 3.0 spine roll, 1.5 split bottom spine, a few chips. Dark grey cover shows every fold.
4.0 average wear solid issue. 3.0 has spine roll pressed back by 50 years of being in an attic. Scarcer last issue, low distribution?
, but more likely very poor sales caused the shortage. What have you as part-trade? Check out my 100% feedback and the other great old comics I have available! There is a reason for all my likes: fair pricing and great grading standards. I grade all books personally since 1974.
The item "Tales From The Crypt and Crypt of Terror #17 to #46 full set. Free ship to world" is in sale since Sunday, February 3, 2019.
This item is in the category "Collectibles\Comics\Golden Age (1938-55)\Horror & Sci-Fi". The seller is "oldcomix" and is located in Covina, California. This item can be shipped worldwide.