Ultra rare UK Garage vinyl record collection 1996 1999 all A+++ tunes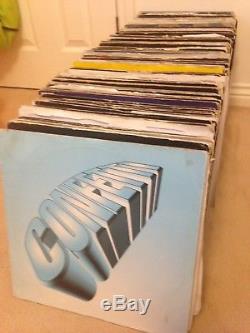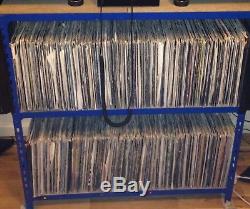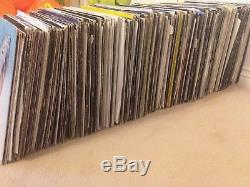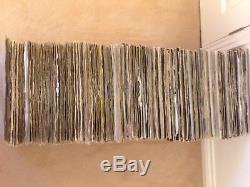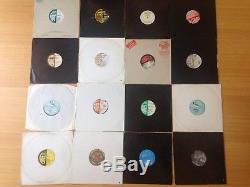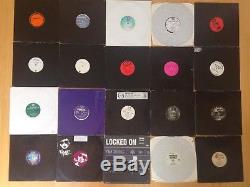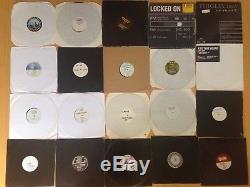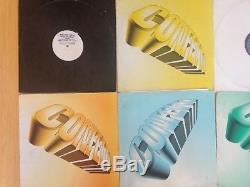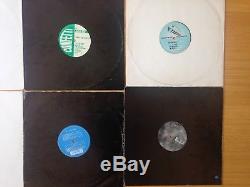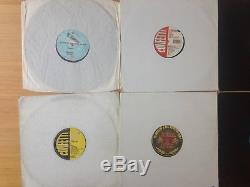 Rum and bass collection which you can check advertised in my other listing number: 163269077291. Back to the business, this Garage collection is pure quality over quantity, there are just too many below average/mediocre tunes out there that shouldnt have even seen the light of day IMO. Well, not in this collection as its the cream of the crop. This is the ultimate UK Garage vinyl collection, quite possibly the only one like it on the market. This is a collection of RARE, UNAVAILABLE and QUALITY UK Garage tunes not on digital, online or in the shops.
It is a bespoke collection, a piece of UK London history and present day culture and is a'1 off' as in unique, hence the asking price. Every piece of vinyl here is a piece of history.
All these tunes are the best of UK Garage that was around. All vinyl is in VG+ condition, some sleeves show wear but vinyl has always been looked after and cleaned with professional vinyl cleaner. I prefer local collection with cash obviously! All vinyl is boxed up in date order which can be checked against the list written below. 3.24HR EXPERIENCE/PART ONE:DUB/NNR008/NICENRIPE/1994.
SUBLIMINAL CUTS/LA VOIE LE SOLEIL/TPXL53/XL RECS/1994. UP FOR IT/THE EP/DP-002/DEEP TROUBLE/1995. KALANI BOB&REMEGEL/THE CHEESE&PICKLE EP/GYARD005/GROOVEYARD RECS/1995. MOODIISWING/DO IT YOUR WAY/GO42/GROOVE ON/1996.
URBAN BLUES/YOUR HEAVEN/SFR-0001/SOULFURIC RECS/1996 damaged but plays. ANTONIO/THE NEW LONDON SOUL EP/B2F003/BACK2FRONT/1997. RAMSEY&FEN/STYLE/BUG001/BUG RECS/1997 correct tune but incorrect label.
DDASTARDLEY&P PERFECT/TEAR IT UP EP/CODB01-97/CONFETTIDUBS/1997. RUGGED&TOUGH/GOT TO GET TO OUR LOVE/CORT01/CONFETTIGROOVES/1997. 50.24HR EXPERIENCE/PART2 MORE DUB/NNR017/NICENRIPE/1997. A VS B/RIPPEDIN2/AMEN004/NOT ON LABEL/1997. FRD PRODUCTIONS/SESSIONS VOL 1/SES001/SESSIONS RECS/1997. ORDINARY PEOPLE/KEEP YOUR LOVE/SC001/SOCIAL CIRCLES/1997. DB SELECTIVE/INDAGROOVE VOL1/VIP001/VERY IMPORTANT PLASTIC/1997.
ROY DAVIS JR/GABRIEL + RIP MIX/XLT88PR/XL RECORDINGS/1997. RAY HURLEY/JUST YOURSELF RMXS/COEP014/CONFETTI RECS/1998. NNG/RIGHT BEFORE MY EYES/HEAT12015/HEAT RECS/1998. SPIRITS OF THE SUN&CHEWY/GOODTIMES EP/RLINE1/RED LINE RECORDS/1998.
M DUBS/RUFF DRIVERZ/SPEED FREEK VOL2/SPEED2/SPEED FREEK/1998. STARDUST/MUSIC SOUNDS BETTER WITH YOU/12001/NOT ON LABEL/1999. CREATIVE MINDZ/YOU GOT ME SINGING/PL04/PLIABLE UK/1999. RATPACK/CLIPPER UPDATES/CODB08 / CONFETTI DUBS/1999.
TY HOLDEN/DO IT NICE/CORG003/CONFETTI GROOVES/1999. YTRIBE/ENOUGH IS ENOUGH ORIG+REMIX/NORTHT21/NORTHWEST10 RECS/1999. DUB TECHNICIANS/AT NIGHT I THINK OF U/TECH1/DUB TECHNICIANS/1999. EDCASE/SOMETHING IN YOUR EYES REMIXES/UNIT5004R/UNIT FIVE RECS/1999.
BUMPNFLEX/SO LONG DUB AND VOX/12 WILD 27 GP/WILDSTAR RECS/1999. LISALISA/LET THE BEAT HIT EM/DL001/NOT ON LABEL/2000. TRUE STEPPERS/TRUE STEP TONIGHT/74321811311/NULIFE RECS/2000. AMIRA/MYDESIRE DREEM TEEM REMIX/VCRTX36/VC RECORDINGS/2000. THE STREETS/THE STREETS RMX/STREET GROOVE001/NOT ON LABEL/2001. RIP PRODUCTIONS/CLUB TRAX VOL1/FLAKE004/ICE CREAM RECORDS/2003. RIP PRODUCTIONS/RIPENREADY VOL2/FLAKE007/ICE CREAM RECORDS/2004. VARIOUS/HIGHLY RECOMMENDED LP/FORMLP003/FORMATION/1995 X3 VINYL. ILS&SOLO/IN THE AREA/LGR004/LOOKING GOOD RECS/1995. COOL HAND FLEX/STEP TO IT/DUG67/DEUNDERGROUND/1996.
DOPE SKILLZ/6 MILLION WAYS TO DIE REMIX/FRONT018/FRONTLINE RECS/1996. RONI SIZE/BRUT FORCE/FCY009/FULL CYCLE RECORDS/1996.
DJ HYPE/STILL SMOKIN LP/GLINELP001/G-LINE RECS/1996 X 3 VINYL. UNDERCOVER AGENT/DUB PLATE CIRCLES/ECIUJ006R/JUICE RECORDS/1996. OMNI TRIO/THE HAUNTED SCIENCE LP/ASHADOW6LP/MOVING SHADOW/1996 X 2 VINYL. ORIGIN UNKNOWN/THE SPEED OF SOUND/RAMMLP1/RAM RECORDS/1996. DJ KANE/ANIMAL INSTINCT/TOV12012/TROUBLE ON VINYL/1996.
DJ HYPE/PEACE LOVE &UNITY/TPR001/TRUE PLAYAZ/1996. IN DEEP/FROM THE DEPTHS/UF12.003/URBAN FLAVOUR RECS/1996. DJDIE/PLAY IT FOR ME/VO15/V RECORDINGS/1996. DR S GACHET/REMEMBER THE ROLLER REMIX/AUMR007/AUDIOMAZE/1997.
41.3 WAY/MASK/CASH TILL/DDRAG018/DOPE DRAGON/1997. DJ ZINC/ITS LIKE THAT/FRONT029/FRONTLINE RECS/1997. SUV/FREEBEAT EP/FCY015/FULL CYCLE RECS/1997 1XFREE BY FOUR VINYL. DJ DIE/REINCARNATED RMX/FCY013/FULL CYCLE RECS/1997. VARIOUS/WAY OUT CHAPTER/HLLP2/HARDLEADERS/1997 3 X VINYL. OMNI TRIO/TWIN TOWN KARAOKE/SHADOW106/MOVING SHADOW/1997.
THE GANJA KRU/NEW FRONTIERS EP/74321 50107 1/PAROUSIA/1997 3 X VINYL. DJ DIE/THE PLANET MAN/TLX27/TALKIN LOUD/1997. RONI SIZE/HEROES ORIGIN UNKNOWN MIX. RONI SIZE/SHARE THE FALL/TLXX21/TALKIN LOUD/1997. VARIOUS/CODE OF THE STREETS/TOVLP01/TROUBLE ON VINYL/1997.
TODD TERRY/LET IT RIDE/7243895876 6/VIRGIN/1998. MARCUS INTALEX&ST/HOW YOU MAKE ME FEEL/31R009/31 RECS/2000.
JOHN B/HOLD IT DOWN/CRSE027/CREATIVE SOURCE/2000. KOSHEEN/HIDE U DECODER MIX/MOKSHA05T/MOKSHA RECS/2000. DANNY BYRD/SHOULD I STAY OR? TEEBEE/YOU DONT KNOW/UDW001/NOT ON LABEL/2000. UNKNOWN ARTIST VS MARY J BLIGE DNB/FMJB001/NOT ON LABEL/2001.
BLUESONIX/GOT ME IN ITS SPELL/AQS001/AQUASONIC RECS/2001. JOHNB/FUTURE REFERENCE/BTALP003/BETA RECS/2001 3 X VINYL. TOTAL SCIENCE/TUNED IN/CIALP002/CIA/2001 3 X VINYL. CARLITO&ADDICTION/U GOT ME THINKING/CRSE030/CREATIVE SOURCE/2001.
CALIBRE/MUSIQUE CONCRETE/CRSE002LP/CREATIVE SOURCE/2001 5 X VINYL. J MAJIK/LOVE IS NOT A GAME/DFECT31/DEFECTED/2001. VARIOUS/PLASTIC SURGERY2/NHS30LP/HOSPITAL RECS/2001 4 X VINYL.
HIGH CONTRAST/MAKE IT TONIGHT/NHS37/HOSPITAL RECS/2001. J MAJIK/SPACED INVADER/INFRA003LP/INFRARED/2001 1 X VINYL. 121.60 MINUTE MAN/GUEST LIST EP/ICOM018/INTERCOM RECS/2001.
MACE/ROCK YA SOUL/MNB017/MIX&BLEN/2001 2 X VINYL. ERYKAH BADU/BAD LADY DUNE MIX/CMP TEST1/NOT ON LABEL/2001.
132.4HERO/LES FLEUR/9BY9 REMIXES/TLXX66/TALKIN LOUD/2001. GROOVERIDER/WHAT DO YOU DO/GROOVE:002/COLUMBIA/2002. CALIBRE/PROOF POSITIVE/SUICIDE006/COMMERCIAL SUICIDE/2002/1 X VINYL.
CARLITO &ADDICTION/JUST WANNA BE/CRSE0032/CREATIVE SOURCE/2002. PESHAY/ROTATION/CUBIK001LP/CUBIK RECS/2002 1 X VINYL. PESHAY/YOU GOT ME BURNING/CUBIKSAMP001/CUBIK MUSIC/2002. INFLUX DATUM/BACK FOR MORE/FORM12096/FORMATION RECS/2002.
MAKOTO/MUSICAL MESSAGE EP/GLREP018V/GOOD LOOKING RECS/2002 2 X VINYL. HIGH CONTRAST/RETURN OF FOREVER/NHS40/HOSPITAL RECS/2002. HIGH CONTRAST/TRUE COLOURS/NHS41LP/HOSPITAL RECS/2002 1 X VINYL'A. ACCIDENTAL HEROES/60 DEGREES/INFRALP004/INFRARED/2002 1 X VINYL.
EZ ROLLERS/ALL FOR LOVE/ICOM022R/INTERCOM RECS/2002. 165.60 MINUTE MAN/CLOSER/ICOM023/INTERCOM/2002 1 X VINYL. 166.60 MINUTE MAN/GIVE IT UP/ALRIGHT/ICOM024/INTERCOM RECS/2002.
EZ ROLLERS/BACK TO LOVE/SHADOW159/MOVING SHADOW/2002. BADFELLAS/SOC IT TO ME/N212006/N2 RECORDS/2002. BLUE SONIX/BLACK IS WHITE RMX/PIVOTAL-PB13 PIVOTAL/2002. ED FUNK/LAZY AFTERNOON/PFUNK002/PLANET FUNK RECS/2002. 4HERO 9BY9 MIST MIXES/RIVET183/REINFORCED RECORDS/2002. TRONIK100/NIGHT FEVER EP/RR33/RENEGADE/2002 1 X VINYL. KENNY KEN/EVERMAN/RUGGED CL01/RUGGED VINYL RECS/2002.
MISTICAL/MISTICAL DUB EP/SOULR003/SOULR/2002 1 X VINYL 1. MARCUS INTALEX/SOULUTION SERIES1 PT1/SOULR004/SOUL R / 2002. MARCUS INTALEX/SOULUTION SERIES1 PT2/SOULR005/SOUL R 2002.
DANNY BYRD/EXPAND YOUR MIND/SIM001/SOUND IN MOTION/2002. PASCAL/HOLD YOU/TPR12042/TRUE PLAYAZ/2002 1 X VINYL. MARKY&XRS/LK VOCAL & DUB/V035/V RECORDINGS/2002. DAVE ANGEL/ROTATION MARKY MIX/V RECS/2003. T HOW YOU MAKE ME FEEL PHOTEK REMIX/31R018/31 RECORDS/2003 1 X VINYL. DKAY REACH INSIDE/31R019/31 RECORDS/2003 1 X VINYL. KLUTE/NOW, ALWAYS & FOREVER/SUICIDELP001/COMMERCIAL SUICIDE/2003 1XVINYL. DANNYC/I GOT WHAT YOU NEED/CRSE0037/CREATIVE SOURCE/2003. HIGH CONTRAST/PAPUA NEW GUINEA BOOTLEG/DAONE001/2003. BLUE SONIX/MOVE UP CLOSE/DFUNKDLP2-P2/DEFUNKED/2003 1 X VINYL. A-SIDES/WHAT U DONT KNOW/EAST 56/EASTSIDE RECORDS/2003. ILL LOGIC&RAF/MUSIC LOUNGE VOLUME1/EBR026/EBONY RECORDINGS/2003. DKAY&RAWFULL/BE THERE FOR YOU/FREAK001/FREAK RECS/2003. LAROQUE/SOMEONE LIKE YOU/GLR060/GOOD LOOKING RECORDS/2003. PFM/THE WESTERN REMIX/GLRPFM001W/GOOD LOOKING RECORDS/2003. DKAY&LEE/TOUCH/NHS51/HOSPITAL RECORDS/2003 1 X VINYL1. LONDON ELEKTRICITY/DIFFERENT DRUM/NHS56/HOSPITAL RECORDS/2003 1 X VINYL 2. J MAJIK/SHARE THE BLAME EP/INFRA021P/INFRARED/2003 1 X VINYL 1.
NUTONE/JAZM/NIR12025/NEW IDENTITY/2003 1 X VINYL. FUTURESOUND OF LONDON/PAPUA AMEN REMIX/PAB001/NOT ON LABEL/2003.
J MAJIK/ASBESTOS/NULP002/NU DIRECTIONS/2003 1 X VINYL. TRONIK100/GARAGE TUNE/RR41/RENEGADE RECORDINGS/2003/ 1 X VINYL.
244/SONIC/STILL DREAMING/SPACER003/SPACE RECORDINGS/2003 1 X VINYL. DOPE SKILLZ/NAXEMENA/TPR12047/TRUE PLAYAZ/2003 1 X VINYL. CALIBRE/PUT THAT WOMAN FIRST REMIX/W612TX/WARNER/2003. SIMON BASSLINE SMITH/FEEL THE SUNSET/CRSE0038/CREATIVE SOURCE/2004.
ILL LOGIC&RAF/MUSIC LOUNGE VOL 2/EBR-031/EBONY RECS/2004. VICE VERSA/SHINING THROUGH/GLR063W/GOOD LOOKING RECORDS/2004. MAKOTO/JOY EP PLATE 1/GLREP020VWAB/GOOD LOOKING RECORDS/2004.
VICE VERSA/PROJECT:STUDIO X-2 PART 2 A/B/GLRSX002V2W/GOOD LOOKING/2004. VICE VERSA/PROJECT STUDIO PART2 C+D/GLRSX002V2W/GOOD LOOKING/2004.
PARIAH+BASSLINE/PROJECT STUDIO X2/PART 3 A/B/GLRSX002V3W/GOOD LOOKIN/04. JOHN B/WITHOUT U/NHS69LP/HOSPITAL RECORDS/2004 1 X VINYL 3.
RONI SIZE/STRICTLY SOCIAL COMMIX&NUTONE RMXS/LQD001/LIQUID V/2004. COMMIX/GETS ME HIGH/LGR051W/LOOKING GOOD RECORDS/2004. MAKOTO/WHAT 2 DO/LGR052W/LOOKING GOOD RECORDS/2004. D'ANGELO/NU BOOTS VOLUME ONE/NUBOOTS001/NOT ON LABEL/2004. CALIBRE/DROP IT DOWN/BLEEP/SIG 006/SIGNATURE RECORDS/2004.
FABIO/LIQUID FUNK VOL2/CRSE003LP CREATIVE SOURCE 3 X VINYL. SHY FX &T POWER/DIARY OF A DIGITAL SOUNDBOY/SBOYLP001/2005.
SOLID STATE/JUST A VISION CALIBRE REMIX RENEGADE RECORDINGS/2005. SOLID STATE/JUST A VISION MIST REMIX/RENEGADE RECS/2001. CALIBRE/CARRY ME AWAY/MR RIGHT ON/SIG10/SIGNATURE RECORDS/2007. The item "Ultra rare UK Garage vinyl record collection 1996 1999 all A+++ tunes" is in sale since Thursday, September 20, 2018. This item is in the category "Wholesale & Job Lots\Music\Records".
The seller is "nicofortune" and is located in Ipswich, Suffolk. This item can be shipped worldwide.