WW1 US Army 77th Division Lost Battalion Survivor Uniform Grouping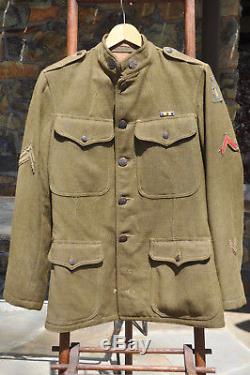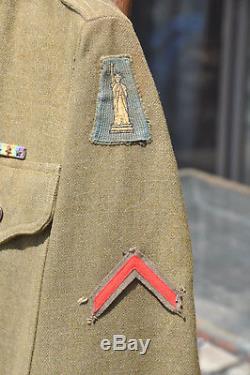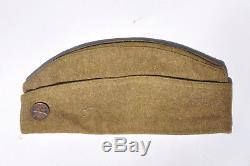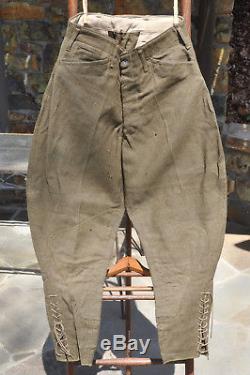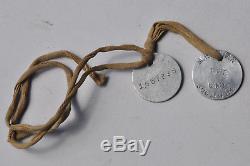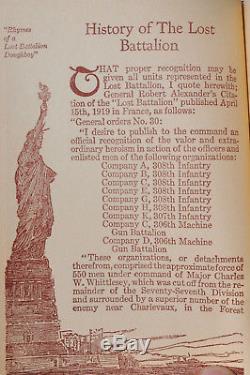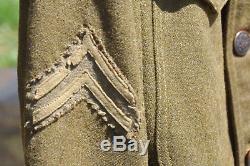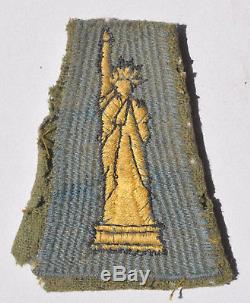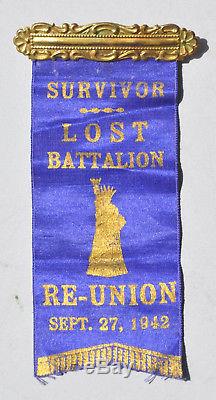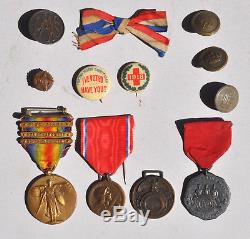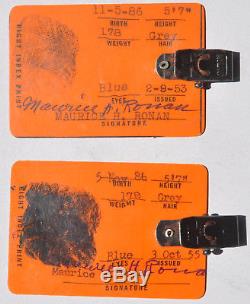 American WW1 Army Tunic, Pants and Cap, 77. Division Lost Battalion Survivor Grouping. These belonged to Maurice H. Ronan, service #1,657,838, Corporal, U.
Division, 154th Infantry Brigade, Company C, 306. Tunic details: a standard WW1 Army OD Wool Dough Boy Jacket with Corporal Stripes on the right arm.
The chevrons are mothed as shown in the image. The left arm has the 77th Division SSI, a red Honorable Discharge stripe, and a two stripe over-seas patch at the cuff. The Discharge stripe was originally "tacked-on" at it's corners, The top three tacks have come loose, and the stripe is being held to the uniform with the bottom two corner tacks. A US Victory Ribbon with three Stars over the left breast pocket, the center star is slightly larger than the two outer ones. The collar discs are the intertwined USNA (United States National Army), and Infantry crossed rifles, with M.
The lower jacket front flap, below the five-button front, has had two hook and eye closures that were sewn on during the period of use. There is the remnant of the depot label on the inside collar, next to a coat hanging loop. There are no other labels or markings in the jacket. The left lower pocket looks puffy in the image.
The cap was folded in half and spent the years since WW1 in that pocket. Cap details: standard WW1 Army Overseas Cap. The top seam has been sewn closed, which is a typical modification. The disc on the left front side is the the Infantry crossed rifles with MG above. There is a depot label on the sweat band, it is worn, but reads SIZE: 7 3/8 and makers info (which is somewhat faded).
Pant details: standard WW1 Army OD Wool Pants. These have mothing in the inside of the crease, where both legs laid against themselves on a clothes hanger.
It doesnt seem excessive when looking at the picture, mostly small moth nips. The legs have laces at the bottoms. The fly has three hidden and one exposed zinced metal buttons, the exposed button at the waist. There is a stain on the pocket fabric on the left rear pocket that is from the period of use. Included with the uniform are the following items.
1- a Set of two Dog Tags mkd; M. BN , and the reverse 1.657.838 on their original cotton cord. 2- a 1 ¾ x 2 3/8 WW1 photo of then Corporal Ronan, image size 1 ¼ x 2.
3- his WW1 Victory Medal with three clasps; OISE-AISNE, MEUSE-ARGONNE AND DEFENSIVE SECTOR. 4- a French VERDUM Medal on ribbon with award pin. 5- a Re-Union Ribbon, SURVIVOR LOST BATTALION RE-UNION SEPT. 27, 1942 w/ Statue of Liberty logo.
Lapel Button, on a piece of paper w/ pencil Mo Ronan. Naval Base at Newport, R.
For him as a Pipefitter, his photo is on the front and his personal info and thumb-print are on the reverse, issue date 2-8-53. For him as a Pipefitter, his photo is on the front and his personal info and thumb-print are on the reverse, issue date 3 Oct 55.
9- a brass City of New Bedford WW1 Recognition Medal w/ no ribbon. 10- a Sterling Silver City of New Bedford Welcome Home Meet, July 4. The reverse is engraved 100 YD DASH and stamped w STERLING and makers info.
Division SSI Patch, removed from a uniform, with fantastic wear and minor moth damage. 12- two celluloid pins; IVE VOTED, HAVE YOU?
A 1918 Red Cross Christmas Pin. Three German Tunic BUTTONS (one pewter finish, two brass), a red, white and blue Bow, a.
Brass VFW WW1 Lapel Button. 13- a USNA Collar Disc. Included is a copy of the booklet; "Rhymes of the Lost Battalion" which has a page that identifies the units of the Lost Battalion, as well as a copy of that page. Please note that this copy of "Rhymes of the Lost Battalion" did not come from this soldier's grouping, but was collected seperately.
This grouping is a rare offering. Approximately 194 survivors were rescued, out of the approximately 554 members of the 154th Infantry Brigade, who were surrounded. This grouping has many of Corporal Ronan's effects from World War One, as well as items of his through the 1940's and 1950's, including a Lost Survivor Re-Union Ribbon, and Shipyard I.
Badges which have his personal info and pictures of him during the 1950's. His likeness follows through these pictures and match the small snapshot of him taken in WW1. A great grouping of historical significance. The uniform is not i. D through ink markings on labels or in the interior, however this grouping has been in one collection for many years, and was acquired then as a collection of items from one U. WW1 Dough Boy who was a survivor of the Lost Battalion. I can provide other pictures of any of the items in this group. Please contact me with any questions or requests. I sell with a three day inspection, with return privilege. I pack securely and carefully. I live by the Golden Rule; "Treat others as you would like to be treated". Let's be fair, let's have fun! The item "WW1 US Army 77th Division Lost Battalion Survivor Uniform Grouping" is in sale since Monday, April 09, 2018. This item is in the category "Collectibles\Militaria\WW I (1914-18)\Original Period Items\United States\Uniforms". The seller is "tedhere" and is located in Warrenton, Virginia. This item can be shipped to North, South, or Latin America, all countries in Europe, Australia.