100 White Sage Smudge Stick Bundles Sustainably Grown Wholesale Bulk Sage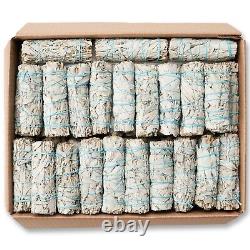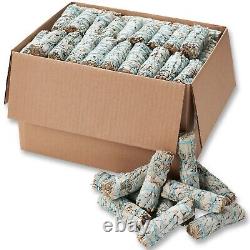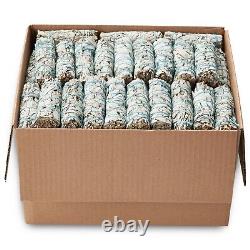 Watch your stress & worry melt away. And bestow these sacred age-old tools for all the spiritual, mental, & physical benefits that come with them for yourself & those you love! What's in the box?
100 of the best quality white sage bundles you can get (4 inch). Easy step by step instructions & blessings. All of our sage is sustainably grown in its original habitat on private land in the mountainous region of California. Sage is a perineal herb that is used to cleanse & purify negative energy + ward off bad luck, cleanse the air, improve cognition, and even sleep! I sleep so much better now! Sage is a very powerful tool for your spiritual health + growth so make sure you're choosing the right place + the right people for your sage needs!
Palo Santo is a sacred fragrant wood used to purify, cleanse, heal, inspire creativity, and protect the spirit from negative energy. Our palo santo comes to its final resting spot on the quiet floors of the Peruvian forest, gathered by locals after freely falling over time (never cut). Your abalone shell is harvested under strict regulations to ensure sustainability.
Hand caught by divers, professionally cleaned and ready to hold your smudges. (Many other types of abalone are not well managed and are not sustainable or safe to use).
The wooden abalone shell stand is made of Indica and Mango wood, and the feather is from a cruelty free company. Our wonderful staff is 60% women and 100% in love with our job, the biz was started in a small house in Ohio, and our mission in life is to give our customers the Mom & Pop shop LOVE that we all want for each other! In life is to put sage in your hands + love in your heart!
Seriously, we want to give you the tools to cleanse negative energy from your life. That is more important now than ever + we promise to leave you better than we found you! So take a look around and just let us know if we can help you with anything and everything!
Easy + In Depth Instructions. Giftable + Pretty & Clean Packaging.