1/4 Kilo! RHODIZITE CRYSTALS! Over 2500 Wholesale Rhodizite! Many LARGE Crystals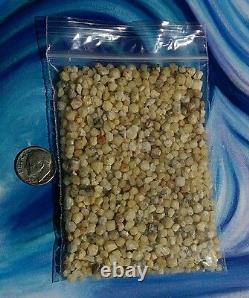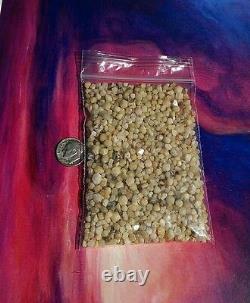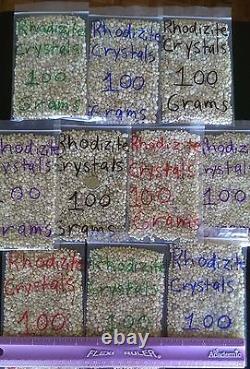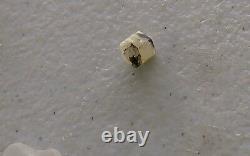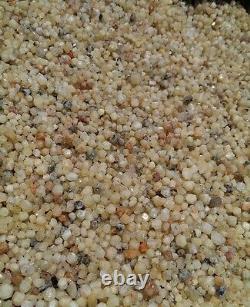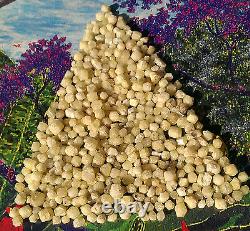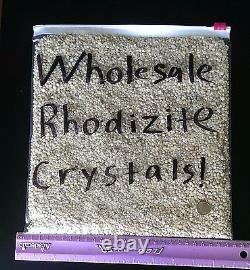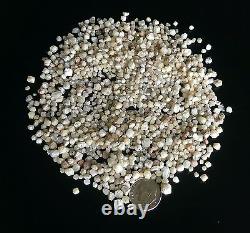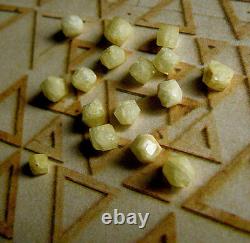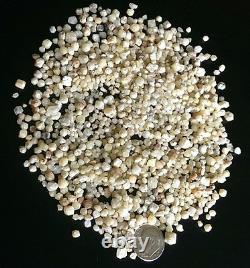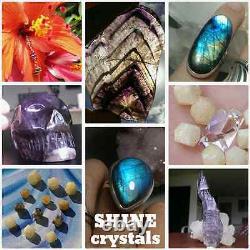 New Wholesale listing of 250 GRAMS of Powerful Rhodizite Crystals! This 1/4 Kilo of crystals is brand new stock direct from the mines in Madagascar! These rhodizite are charged and potent pieces that vibrate on an extremely high level!!! You will be receiving somewhere around 2,500+ crystals. Photo #1 is 100 grams of rhodizite with a dime included to show scale.
So, you will receive two and a half of these bags! This is a great wholesale price for these exceptional stones. You will not be disappointed with these Rhodizite!
Large 250 to 1000 gram orders will be available while supplies last! These will be taken as blind pulls from my stock.
You will receive a range of sizes (3mm-8mm) and a range of exceptional colors that you can see in the photos. There are Black, Red, White, Orange, and Classic Cream colored Rhodizite in this collection. The range of rare colors is impressive. This is the best quality I have ever had! Photo #4 was taken slightly wet to better show color.
Although, the colors are vivid without it. Also, you will receive some World Class LARGE rhodizite as well as several "twinned" crystals! You will enjoy sorting through the colors, sizes, and shapes etc. Some will be perfectly formed and some will be partial dodecahedrons.
Contact me if you have any questions. If you make Orgone devices these are the absolute best crystal to use in your designs.
Rhodizite, like quartz, are piezoelectric (they create an electrical charge when pressure is applied) but they are also pyroelectric (they create an electrical charge when heated or cooled). This adds a potent amplification to Orgone!!! Rhodizite are also famous for enhancing the energy of all other stones that you might use in your pieces. I have started calling Rhodizite "Natural Orgone Generators". Here is a quick description of rhodizite: Rhodizite are my favorite crystals due to their natural dodecahedral shape and powerful amplification abilities. They grow in central madagascar in highly evolved pegmatite rocks along with red tourmaline, black tourmaline, danburite, apatite etc. The size of these rhodizite crystals are between 3 and 7 millimeters. You will receive many LARGE rhodizite with your order.
However, it has been my experience that size does not matter with rhodizite crystals. Rhodizite forms a series with the newly approved species Londonite with Rhodizite being the potassium end member.
I have been working with these crystals for many years and they are very special. Gifting them to friends has been a true joy. The feedback has been tremendous.
Rhodizites are also known as the "Master Crystal" of ancient Lemuria. They possess a rare raw power that is fantastic to behold. I have found that rhodizite is perhaps the best crystal to initiate people into metaphysical crystal awareness. They vibrate on such a high level that even the staunchest of non believers often experience their power.
This item is in the category "Collectibles\Rocks, Fossils & Minerals\Crystals & Mineral Specimens\Crystals". The seller is "shinecrystals" and is located in this country: US. This item can be shipped worldwide.
Shape: Natural
Country/Region of Manufacture: Madagascar