25 Dutch Delftware Delft faience tile carreaux white Witjes tiles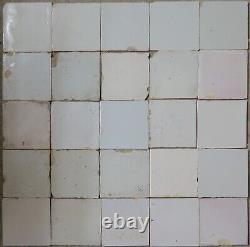 25 white glazed tiles, ANTIQUE! Ideal for a fireplace surround, a back splash in the kitchen or, other, restoration project. If you want ANY other information or If you want other / better photos, please let me know, feel free to ask a Question. We are THE Delft tile specialist of The Netherlands and have a hughe stock of original Dutch Delft tiles, blue and white and early polychrome majolica maiolica tiles from the late 16th. We can explain why a certain original tile is only worth 10 dollars and another, more or less the same can be 100 dollars or more. We are always happy to give honest FREE advice. If you are looking for a specific type of Dutch Delft tiles, feel free to ask. ALL Dutch tiles before 1800 have these, SEE photo, PIN HOLES IN THE CORNERS, If tiles DO NO have these pin-holes than they are made AFTER 1850! ALL tiles with DAMAGES, pitting, some a bit sanded off, glaze flakes, glaze chips, SEE photo.
If you want other information or photos, feel free to ask a question. We also have a good collection of original authentic 17th.
Century Delft, delftware, German stoneware etc. If you are looking for anything specific feel free to ask. Professional packing is free of charge. The size of these tiles are app.
13 x 13 cm (= 5.12 x 5.12 Inches). Also check our other auctions this week of original authentic Antique Dutch Delft tiles and other QUALITY objects.