34,468 graphic novels/TPBs/HCs wholesale lot bulk deal ($570,989.99 value)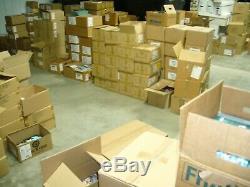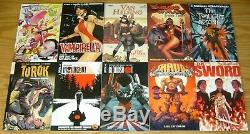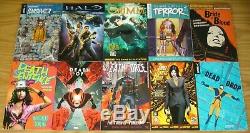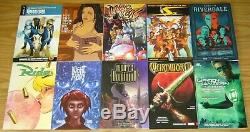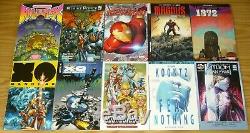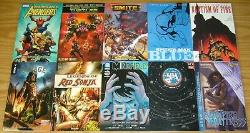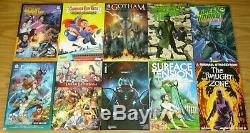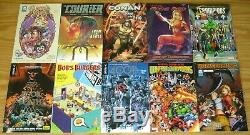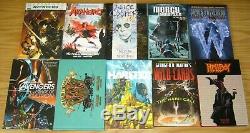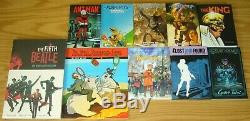 Wholesale lot of 34,468 graphic novels. A great opportunity if you sell regularly at flea markets, conventions or have a storefront in a large city. Or start your own online business with this lot. Here's what you get. One hundred years from today, Father - the benevolent artificial intelligence that governs the island nation of Japan - will gain sentience.
To defend its borders, Father will take drastic action by launching Japan into space... Where its people will thrive in isolation, away from the overpopulated and resource-deprived planet below. Over the centuries, as New Japan orbits our increasingly unstable world, it will become a model society - one built on peace, prosperity...
A thousand years from today, Father will create the first Rai, founding a lineage of technologically enhanced heroes engineered to defend New Japan and sworn to protect it from all enemies. For hundreds of years into the future, the Rai will single-handedly enforce New Japan's justice well... And serve Father without question. Now, at the dawn of 4001 A. The latest Rai is about to inherit the dark truth behind the origin of his kind...
And discover the sinister secret at the heart of Father's existence. For New Japan to live, Earth must die... And as Rai challenges his former master for the first time in more than a millennium, the lone guardian of New Japan will be cast out of his own Father's kingdom... Exiled from the only realm he's ever known, Rai now walks the ravaged world of 4001 A.
In search of forgotten heroes like himself... On a mission to collect the last surviving legends of a broken planet...
And to forge a rebellion with the power to bring the most advanced civilization in history crashing back down to Earth. With the fate of New Japan floating in the balance! Meet Armstrong: Since the ancient city of Ur, this immortal adventurer has spent the last 7,000 years drinking and carousing his way through history alongside some of the greatest merrymakers the world has ever known. Meet Archer: A sheltered teenage martial arts master and expert marksman that was raised for a single purpose - to kill the devil incarnate. Little did he know that this undying evil was actually Armstrong (he's actually a pretty good guyonce you get to know him) and, since hitting the road together, the two have become great friends and even better partners.
Now: Archer is about to set off on his most dangerous mission yet - a quest into the mystic reaches of Armstrong's bottomless satchel to liberate his friend and comrade from the clutches of the mad god Bacchus! Okay, so, Armstrong went into the satchel himself to get a bottle of whiskey that he kinda misplaced and got stuck. It's like the Amazon warehouse of arcane treasures in thereand he doesn't exactly have a maid service. Imprisoned in Armstrong's satchel for centuries, Bacchus now commands a legion of monsters, goblins and golems bent on escaping back into the world of man and enacting revenge on their captor Can Archer single-handedly combat the godly embodiment of intoxication himself - and rescue his best buddy - without becoming lost amongst Armstrong's endless repository of bizarre artifacts and historical oddities in the process?
From red-hot rising star Rafer Roberts (Plastic Farm) and superstar artist David Lafuente (Ultimate Spider-Man), Valiant's next blockbuster series starts here! Collecting A&A: THE ADVENTURES OF ARCHER & ARMSTRONG #1-4. A young woman torn between two cultures takes on an epic adventure battling devious yokai for the fate of her world! His stage shows were the stuff of legend, featuring snakes and pyrotechnics, the invocation of dark themes and darker forces. But while he was a legend in the waking world, few knew his service as "The Lord of Nightmares" beyond it, where he watched over us while we dreamed, and delivered horrors unto the deserving.
Only someone took it all away from him, cast him out of his realm, and locked him away. No longer enslaved to the Clan Black, Alice Cooper will reclaim his dark throne at all costs. All hail the Godfather of Shock Rock! This mind-bending collection includes the complete six-issue Dynamite comic book series, plus Alice Cooper's first-ever comic book appearance from Marvel Premiere #50, featuring the creative talents of Alice Cooper, Jim Salicrup, Roger Stern, Ed Hannigan, and Tom Sutton, fully remastered!
The Great Sea is still in chaos after the mysterious disappearance of the Pirate Queen Anne Bonnie, and danger lurks over every crest. Along the way she'll make new friends - and enemies - and learn what being a pirate really means. Set sail for adventure in the first 6-issue arc of ANNE BONNIE: THE JOURNEY BEGINS! And when she's through, the Sea will never be the same again!
Meet the tiny hero with a giant heart in this collection of all-ages adventures. He can shrink and talk to ants - now find out how he uses these awesome abilities to aid mankind! Grab your magnifying glass and learn how the man in the anthill became a size-changing super hero in clashes with the menace of the microverse Psycho-Man and the beach that walks, Sandman!
But when the Ant-Man suit is stolen, Power Man and Iron Fist are hired to hunt it down. COLLECTING: Marvel Adventures Super Heroes (2008) 6, 10; Marvel Universe Avengers Earth's Mightiest Heroes (2012) 17; material from Avengers: Earth's Mightiest Heroes (2010) 4, Super Heroes (2010) 19.
33 of Archer & Armstrong vol. After years of meditation and training, 18-year-old Obadiah Archer has been dispatched to New York City to carry out the sacred mission of his familys sect locate and kill the fun-loving, hard-drinking immortal known as Armstrong! But as this naive teenage assassin stalks his prey, hell soon find that both hunter and hunted are just pawns in a centuries-old conspiracy that stretches from the catacombs beneath Wall Street to the heights of the Himalayas. And Archer & Armstrong will have to work together if the future is to stand any chance of surviving the pasts greatest threat! Good triumphed over evil and Ultron was shot into space, never to be seen again.
Now, years later, the homicidal artificial intelligence - so long devoted to ending life on Earth - has a new world to conquer... One with its own horrific legacy. When Titan, birthplace of Thanos, falls, Planet Ultron rises in its place!
Thanos' brother Starfox must seek the aid of his former allies - but the Avengers he finds are radically different from the ones he once knew. Among them is Ultron's creator Giant-Man - and when Hank Pym confronts his now planet-sized "son, " the responsibilities of fatherhood have never loomed so large. Rick Remender (Uncanny Avengers) and Jerome Opeña (Avengers) unleash the full robotic rage of Ultron on Earth's Mightiest Heroes! 614 of Baker Street Four vol. Billy, Charlie, and Tom are inseparable, and for good reason.
Filled with con men and scoundrels, Londons East End is not easily survived alone. Fortunately, the three friendsand their faithful feline companioncan count on the protection of Sherlock Holmes, for whom they sometimes act as spies. When Toms girlfriend is kidnapped, the Baker Street Irregulars must put their budding sleuthing skills to use. Then, when a Russian immigrant is framed for a Jack the Ripperinspired crime, our heroes set out to discover the truth and uncover a conspiracy that may go deeper than they ever imagined. Armed with only their quick wit and street smarts, the Baker Street Irregulars must work together to solve mysteries in the nick of time.
Make way for the youngest detective team of the Victorian era! Hailed by critics and audiences, The Baker Street Four has received numerous awards and was featured at Angoulême in 2012. Insight Editions is proud to continue to bring this exciting story to English audiences worldwide. Collecting together the first five issue story arc of the comic and introducing a brand new villain, created exclusively for the comic by the writers of the TV show.
Someone is targeting the FBI with a series of planned attacks including framing them for the murder of a leading political activist. Red at first suspects that a dangerous, media-manipulating Blacklister know as the Lobbyist is responsible, but comes to realise that there is someone far more sinister and deadly behind the scenes manipulating events for his own nefarious purposes... His enhanced strength, speed, endurance, and healing made him the perfect weapon, and he served his masters at Project Rising Spirit a private contractor trafficking in violence very well. Now, Bloodshot is a shadow of his former self.
He lives in self-imposed exile, reeling from the consequences of his past life and the recent events that nearly drove him mad. But when a rash of shootings by gunmen who appear to look just like Bloodshot begin, his guilt will send him on a mission to stop the killers, even if it means diving head-long into the violence that nearly destroyed him. Start reading here as visionary creators Jeff Lemire and Mico Suayan kick-off a brand-new beginning for the cutting-edge commando called Bloodshot... And plunge him to his darkest, bloodiest, most mind-bending depths yet.
Your brother is trapped behind enemy lines and on the verge of no. Your name is Raymond Garrison. You've retired from the dangers of the field, but a desperate plea from your oldest friend plunges you into a vicious firefight that no. That's not right, either. You are the shade of gray that freedom requires. The perfect confluence of military necessity and cutting-edge technology. A reservoir of dirty secrets that could set the world on fire. And you've just been captured! This is how they lived.
This is how they died. The Book of the Geomancer has recorded it all.
But only a young girl the last in a line of the enigmatic mystics who protect the Earth known as Geomancers has seen this future come to pass, from the coming cataclysm to the dawn of the 41st century. Alone with her sworn protector, the Eternal Warrior a soldier battle-forged across five thousand years of combat the duo must defy their allies to stop the Dark Age that now threatens to eclipse our world. Together, they are the number one target of every hero and villain on Earth. Either the Eternal Warrior hands her overor they take him down. But can even he single-handedly protect one child when the entire Valiant Universe wages war against him?
Collecting BOOK OF DEATH #14. During the fallout of Civil War II, Ms.
Marvel, Nova and Spider-Man quit the Avengers and strike out on their own! With Viv Vision and the Totally Awesome Hulk by their side, these young heroes are determined to change the world their own way - and they're only the beginning! It starts as an idea.
But what happens when it turns into a movement - one so big even the Hulk can't stop it? And will one of the greatest X-Men of all forge a new future by their side? Welcome to the Champions, Cyclops!
Unfortunately, not all of your new would-be teammates are glad to see you! This fun, action-packed series ties directly into Zenescopes upcoming milestone, Grimm Fairy Tales #100!
MI6 spy Lorraine Broughton was sent to Berlin to investigate the death of another agent, and the disappearance of a list revealing every spy working there. She found a powder keg of mistrust, assassinations and bad defections that ended with the murder of MI6's top officer, as the Berlin Wall was torn down. And nothing is what it seems. All of the stunning covers by John Cassaday are included, along with script pages, annotations by Leah Moore and John Reppion and samplings of the original text by Bram Stoker! Soon his pursuit of the ancient treasure reveals a conniving spirit and undead guards.
Dust from the desolate land meets blood, and a dark-hearted sorcerer brings forth strange abominations from this unholy mix. Only the cool head and cold steel of the Cimmerian can save all creation from the horror that awaits, and the blood-spattered conclusion will send shivers down the spines of even the most hardcore Conan fans! Half of those who lived were immune while half of the survivors mutated into something disturbingly subhuman.
Now decades later, the world has rebuilt in many ways but has become something else entirely. Strongholds of human survivors have been set up independently of one another across parts of what is formerly the United States. The rich live in highly guarded Utopias where technology and even an economy has been restored.
However, the vast "wasteland" between strongholds is a very dangerous and unforgiving place where the poor are forced to live in areas where gangs, pirates and the mutated roam free. Couriers are key to the survival of the Strongholds and are paid handsomely to deliver valuables between them.
Heaven and Hell are at war! Fueled by human souls, this never-ending battle threatens to embroil all of existence in its pointless destruction. Deatharbiter of mortal souls and leader of the Underworldis the unlikely hero who endeavors to restore balance to all the realms. Death and his Court of the Dead plan to rise up and defeat the celestial overlords.
Get to know this grim, noble and improbably cast of heroes in the Court of the Dead: Grave Tales comics omnibus. Follow Malavestros, the impassioned, unhinged (and often fourth-wall-breaking) Jester of Deaths Court, on a guided tour through the Land of the Dead. Learn the origins of the unlikely band of heroes who must ultimately overcome their dark and destructive natures to fight the myopic armies of Heaven and Hell. Bear witness as Queen Gethsemoni struggles with the burdens associated with wearing the crown. Watch as Kier, the Valkyrie of the Dead, hunts for angels only to find a much more savage adversary.
These and the other gripping epics enclosed within the Grave Tales Omnibus will prepare you for your journey into the afterlife. Grave Tales 144 pages contain nine original stories, as well as exclusive behind-the-scenes content. This softbound collection of comics is an immersive introduction to the rich dark fantasy universe of the Court of the Dead. When "Catfoot" Crogan becomes the new favorite of an infamous pirate captain whose crew he was forced to join, he incurs the wrath of the murderous first mate D'or. Can Catfoot keep his new crewmates safe when D'or hatches a scheme that will bring the full might of every navy in the West Indies down on their heads?
In the land of the Five Realms, the existence of men has long since been evaporated from the hearts and minds of women. Princess Bethany--ruler of Evanfar, the largest and most prominent kingdom, finds herself at the center of a vast conspiracy that could not only threaten her kingdombut also her life! Journey to a place where magic is abundant, unicorns and ferrets can command armies, and five women struggle to find balance and power--in an ever-changing fairy tale world! He brokered peace with alien races, pushed the frontiers of space, and saved the planet from total annihilation... But now, his Space Fleet has disbanded, the United Nations has crumbled, his friends scattered to the solar winds.
Britain is once again the world power, but Dare, disillusioned and disappointed by his once-precious home country, has quietly retired. But there's trouble mustering in Deep Space. Achilles is picking up strange signals when, suddenly, an enormous fleet of hostile ships ambush the destroyer. Now, as the crew struggles to stay alive, they realize with horror that the hostiles have brought a weapon of unimaginable power. Dan Dare, the pilot of the future, has been called out of retirement.
Whether you're joining the adventure for the first time, or you're already a Dan Dare fan, this hardcover collection of the entire seven-issue series is a perfect addition to any library. There is a secret black market in New York.
It is hidden in plain sight in our streets, trains, restaurants. But when the secret in circulation is a biological weapon derived from Vine technology, the gloves are off and the most extraordinary agents are released to stop the disaster before it occurs. Otherwise, in less than thirty minutes, there will be no world to come back to. X-O Manowar, Archer, Neville Alcott, Detective Cejudo and Betamax are ready to save the world.
Red-hot writer Ales Kot (Bucky Barnes: The Winter Soldier) and rising star Adam Gorham (Zero) go in deep with an unlikely cast of superhuman operators for an undercover conspiracy action thriller in the darkest corners of the Valiant Universe. That's not a metaphor. It's a concrete reality surrounded by razor wire and gun towers in the middle of the California desert.
But today, a young cartographer named Sam Tinker begins an epic battle against the mysterious Warden and all the horrors of her domain, in a desperate attempt to rescue his sister Juniper--the only innocent in Hell! But when the rookie cop stumbles onto the wrong case, it triggers a horrific tragedy as his life comes crumbling down around him. Devastated and broken, Rick is given the chance to seek vengeance on those who have destroyed his life. Now, with a dark and mysterious power at his fingertips, Rick can seek the vengeance he thirsts for, but will the darkness ultimately be too much for him to control?
The Inhumans travel to Japan where one of the Terrigen Clouds creates a shocking new Inhuman. The X-Men travel to Muir Island where the second Terrigen Cloud causes something truly terrible. When these two events collide a war of catastrophic proportions explodes! COLLECTING: Death of X 1-4.
Three people infected with the G+ virus, which grants them incredible powers but which will kill them in six months! Will they fade away or go out in a blaze of glory? From the streets of London to the North Atlantic, from muses lost to futures thrown away Death Sentence is the jaw-dropping next step in superpowered storytelling! Funny, fearless and frightening, this collection of the hit series is an unforgettable comics debut. At the height of the Cold War, the Soviet Union - determined to win the Space Race at any cost - green lit a dangerously advanced mission.
They sent a man farther into the cosmos than anyone has gone before or since. Lost in the stars, he encountered something unknown. The few that have been able to reach him believe him to be a deity - one who turned the scorched desert into a lush oasis. They say he can bend matter, space, and even time to his will. Now the rest of the world's powers must decide for themselves - will the enigmatic Divinity offer his hand in friendship, or will Earth's heroes fi nd themselves helpless against the wrath of the divine? Doctor Mirage talks to the dead...
But the only spirit Shan Fong cant find is that of her late husband, Hwen. Instead, Americas favorite semi-retired paranormal investigator is haunted and raw, using her gift to solve homicides and bring peace to the recently bereaved. But when a big-time occultist with a classified military past hires her for a special job, Shan discovers a lead that might close the greatest mystery shes ever tackled how to get Hwen back! Now, Doctor Mirage must enter the undiscovered country and cross all the realms of the underworld if she has any hope of rescuing the man she loves... Or be forever lost beyond the earthly plane.
Join Eisner Award-nominated writer Jen Van Meter (Hopeless Savages, Captain Marvel) and acclaimed artist Roberto De La Torre (Daredevil, Age of Apocalypse) as Valiant's occult adventurer embarks on a journey across the realms of the dead to bring her love back to the land of the living. Collecting The Death-Defying Doctor Mirage #15. They have all come from beneath the surface, each for a different purpose. United in their exile from their homelands below, looking to blend in out of sight amongst humans, unaware of their true potential.
However, one man, Admiral Maylander, who has spent the better part of his life hunting The Blue, is keenly aware of their presence--and he will stop at nothing to use these Blue as weapons against their own, even if it means killing them in the process! The first all new Fathom series to make its debut since Michael Turner introduced you to his incredible underwater adventure over 18 years ago! Collecting together the entire first Fathom Blue series along with a complete cover gallery, this beautiful trade paperback is a must have for any Aspen or Fathom fan! This special trade paperback contains the entire tale of warfare and betrayal that led up to the battle between the humans and the Blue, and the unheralded surfacing of the Black! Find out why Dawn of War became one of the most pivotal storylines in Fathom history! The Red Skull's daughter has unleashed an evil as old as Midgard itself: The Serpent has risen to reclaim Earth, recruiting seven of its most powerful superhumans as his advance guard, the Worthy. The result is all-out action in classic Avengers style! The Red Skull's Nazi hordes?
Plus: What happens when Daredevil, the Man Without Fear, stands up to fear itself? COLLECTING: AVENGERS 13-17, NEW AVENGERS 14-16. Snow has XPxeroderma pigmentosuma very rare genetic affliction that forces him to avoid light at all costs, and will likely give him cancer later in life.
His parents died under mysterious circumstances and hes now being stalked by the shadowy characters who want Snow to stop trying to find out how they died--or else they'll bump off his remaining loved ones. Fear Nothing features all the pulse pounding thriller action and great character development Koontz fans have come to expect from his work, as well as a bit of comedy, and yes, even an army of evil mutant rhesus monkeys! Yet more than merely the story of "The Man Who Made the Beatles, " The Fifth Beatle is an uplifting, tragic, and ultimately inspirational human story about the struggle to overcome seemingly insurmountable odds.
Stonewashed denim jackets and jeans? Well, not everything about the 80s was lame, because thats when the Garbage Pail Kids ruled the world! Those irreverent, satirical stickers quickly became a pop-culture phenomenon, but they never had their own comic book... In the spirit of the avant-garde cartoonists and humorists who fathered these miscreants, a new generation of alternative-comics creators has lent their unique talents to bring the Garbage Pail Kids into the wacky world of comics. Normally Batman and the other caped protectors of Gotham have the streets of the city covered.
But when monsters, ghosts and other supernatural beings enter the mix, even the Dark Knight needs help. Enter Detective Jim Corrigan aka the Spectre to prowl the streets of Gotham, solving the unsolvable supernatural crimes the city can muster. Collects Gotham By Midnight #1-6. A journalist with great influence in his city, Reid takes on the public persona of a social crusader, but he's far too sure of himself and his judgment. When he finally oversteps his bounds, an innocent man pays a terrible price... And the legend of the Green Hornet may be forever tarnished! From the mind of superstar writer Mark Waid (Kingdom Come) comes a new era for the classic pulp hero! Ande Parks and Johnny Desjardins tell the exciting story of the last remains of the Italian Crime Family and the Japanese Yakuza. How did the two-man team of The Green Hornet and Kato bring about the fall of all crime in Century City? Collecting the four-issue series, Green Hornet: Blood Ties, plus a complete cover gallery. Before he unwittingly brought about the downfall of the Green Lantern Corps... Before his rebirth as the universe's most powerful protector... Hal Jordan of Earth was just a washed-up test pilot with no way to fly...
Until the dying alien Abin Sur granted him his power ring, the most powerful weapon in the universe--and his entry into a reality he could never have imagined. Hal Jordan's metamorphosis from cocky test pilot to the role of the intergalactic guardian Green Lantern makes its way to the big screen in June 2011 from Warner Bros. Pictures, directed by Martin Campbell(CASINO ROYALE) and starring Ryan Reynolds and Blake Lively.
In preparation for his roll as Hal Jordan in "Green Lantern", Ryan Reynolds, who also contributes the introduction to this new edition, has pointed to Geoff Johns' GREEN LANTERN: SECRET ORIGIN as "his bible" for shaping his portrayal of Hal Jordan. Homicide Detective Nick Burkhardt, joined by his mother Kelly, Hank, and Monroe, uncover family secrets long buried during their adventure in Europe.
Hunted by Verrat soldiers, their quest to destroy the Coins of Zakynthos reveals dark secrets and promises death for a member of the cast! From the classic literature to modern day urban legends, like Bloody Mary and The Monkeys Paw, this series re-imagines the creepy stories you know and love for a new generation of readers. Keres, the goddess of death, loves to punish those who she deems deserving of her wrath, and many unsuspecting people who cross her path are about to learn a harsh lesson about morality.
Collected for the first time in paperback. Prepare to experience horror on a whole other level! We knew you couldn't stay away! Line on up for a sick and twisted double feature!
First, in Bride of Blood, Branwyn's wedding is marked by atrocity beyond comprehension. With everything she's ever loved destroyed by reavers, all she has left is revenge! Then it's Flesh Feast of the Devil Doll! Don't miss a lick of the thrills, starting at midnight! But when he finds a powerful, forbidden weapon from the deep past, a single moment of violence sets his life - and the brutal society of the habitat - into upheaval. Hunted by the cannibalistic Habsec and sheltered by former enemies, Cho finds himself caught within a civil war that threatens to destroy his world. When the negotiations are ambushed by a mercenary fleet, Infinity is drawn into a plot which leads them to the discovery of a long-lost UNSC asset trapped behind enemy lines. This graphic novel collects the comics Halo: Escalation 1 through 6. Don't miss the thrilling new adventures set in the Halo universe! Skipping across the country in a desperate attempt to stay one step ahead of the authorities, Peter is quickly realizing that he's a psionically-charged "harbinger" with the potential to reshape the course of human history. But Peter's plight has not gone unnoticed.
Respected philanthropist and fellow harbinger, Toyo Harada, is about to offer Peter the chance at the things for which the boy has always longed family, inner peace, self-control and induct him into the sprawling, secret network of conspiracy and subversion known as the Harbinger Foundation. Now, Peter begins his long road towards a destiny that will shake the very foundations of the Valiant Universe.
All power comes with a price! Old-fashioned pulp fun featuring one of the greatest heroes of modern comics.
Now one man will seek vengeance for all those who share in his pain. When a group of professional killers is brought together in order to take out a crew of gangsters, what starts as a seemingly good plan spirals into something more threatening and deadly than anyone saw coming! Just when you thought it was safe to go back to High School... Aspen Comics proudly presents an all-new series created by Michael Turner, Scott Lobdell and David Wohl.
Hunter Wilson is just an average American teenager in an average American town, but when the beautiful and amnesiac Celeste arrives in his backyard, Hunter's life will change forever. He discovers that Celeste had disappeared from that very house 10 years earlier, and now she's back with little memory of who she was--but with strange, fantastic abilities and the knowledge that dark forces are rapidly approaching! Now, Hunter must help Celeste regain her memory while he tries to keep himself and his friends safe--and if that wasn't difficult enough, Homecoming is just a week away and he doesn't have a date to the dance yet! Tony Stark has a new armor, a new supporting cast, new villains and a new purpose that's going to tear itself across the entire Marvel Universe and beyond. It begins with a shocker of a twist and only gets more surprising from there, with the return of one of Tony's biggest nemeses and the quest to find his biological parents!
As Iron Man chases Madame Masque, her actions threaten to rip all of reality apart! Shellhead's incredible armor will be put through its paces in a story that will shock and awe - but it is who exactly Tony teams up with that will have everyone talking. Brian Michael Bendis takes the genius, billionaire, playboy philanthropist and makes him a superstar! COLLECTING: INVINCIBLE IRON MAN 1-6. This all-color collection, never before published, features some of her most thriling tales and is the perfect entry-point for new readers.
Mega-City One, a futuristic metropolis sprawling across the east coast of North America. This hostile urban nightmare is policed by the Judges; tough lawmen with the ability to act as judge, jury and executioner. Within the Justice department is a section known as Psi-Division which specialises in Judges gifted with extraordinary psychic abilities. Cassandra Anderson is one such Judge; a powerful telepath with a rebellious streak and a talent for getting into trouble...
Nothing but Jurassic Strike Force! On a remote island in the South Pacific lies KAIJUMAX, a maximum security prison for giant monsters.
Follow doting father Electrogor as he stands up to the cruel space-superhero warden! See corrupt guard Gupta manage his illicit uranium-dealing empire and pay off his gambling debts to the Queen of the Moon! Watch Mecha-Zon battle his own programming when the monster he was created to destroy shows up on the pound! These stories and more will assault you from every angle in the cesspool of corruption that is KAIJUMAX. And if he can't survive, then Earth, the place where YOU live, is doomed!
Come check out this sci-fi comedy from Chip Zdarsky (SEX CRIMINALS) and Kagan McLeod (Infinite Kung-Fu). Shrouded in mystery with the shining gold helmet that covers his face, his performances are mesmerizing, and many fans are starting to believe that he really is Elvis. Through a series of thought-provoking interviews and investigative reporting, a journalist makes it his personal mission to find out who The King really is. And along the way he discovers a lot more than he bargained for. But the dark side is only in temporary retreat. The warriors of the Light have won that battle, but it remains to be seen whether or not they've won the war. Beneath the Earth in the caverns of Hell, the Dark Lord is plotting his next strike with a vengeance. With the human population still reeling from global wars, famine, floods, and every conceivable natural disaster and plague, something slithers into the Guardian camps, felling the members of the Guardian teams, and humanity's only chance of survival. Written by New York Times bestselling author L. Banks, The Vampire Huntress Legends: The Hidden Darkness is an original story that takes place after the epilogue in the 12th and final book in the Vampire Huntress series of novels and should not be missed by her fans or anyone who enjoys great paranormal fantasy!
Newly-elected president Stephen Blades hoped to tackle the most critical issues facing the nation: war, the economy, and a failing health care system. But in a letter penned by the outgoing president, Blades learns the truth that redefines "critical": seven years ago, NASA discovered alien presence in the asteroid belt, and kept it a secret from the world.
A stealth mission crewed by nine astronauts was sent to make contact, and they're getting closeassuming they survive the long journey to reach their destination. President Blades has just become the most powerful man on the planet.
Busting a cold case of kidnapping and murder from years ago may be the answer to her problems. Amy is sure that she can solve the case, but when the powerful, and untouchable, Life Science Institute of Hollywood gets involved, she may wind up with much more than just her reputation on the line!
He's suddenly thrust into a futuristic world he doesn't understand, populated by humans and robots living together in oppression! Can Magnus fight to get his life back... And once he learns the truth about himself, will he want to? Collects issues #1-4 of the ongoing Magnus: Robot Fighter series. Marvel's melancholy muck-monster as you've never seen him before - courtesy of beloved author R.
After so many years of somber silence, Man-Thing has found his voice -and taken Hollywood by storm! But when an ancient evil threatens his old swamp stomping ground, Man-Thing will have to choose between his new life and celebrity, and the world he used to call home. An old ally pays a visit, but everything else is out to get Man-Thing -including crocodiles, bats and mosquitos, oh my! Can the balance of the swamp be restored, or will the cause of this calamity be beyond Man-Thing's control?
Plus, bone-chilling bonus horror tales from the master himself, R. Reading this will give you goosebumps... But beware - for whoever knows fear burns at the Man-Thing's touch! Sheriff Steve Rogers faces corruption and fear in the boom town of Timely.
The only thing Anthony Stark seems capable of is pulling a cork, so can he pull Rogers' fat from the fi re? A stranger comes to town that will change Timely forever... For anyone left standing, that is. COLLECTING: 1872, AVENGERS (1963) 80, MATERIAL FROM MARVEL COMICS PRESENTS (1988) 170.
To return his fellow Elder of the Universe, the Collector, to life! Nothing less than the fate of the Earth itself! Now, heroes from around the globe must battle it out in a contest like none ever seen before.
Marvel's historic first miniseries is re-released in a single volume, packed with extras! Everyone circa 1982, that is.
Collecting Marvel Super Hero Contest of Champions #1-3. This is the only book that doesn't have a spine.
When they each get a shot at wearing the empowering emerald artifact, they figure it's a dream come true! Power, fame, and ultimate wish fulfillment are at arm's reach!
But so is the mute man-monster, Walter, and arm's reach is far too close when he's involved! When the pack stumbles upon the buried bones of numerous dead children, she shapeshifts into a mystery of the legendary fae - a mystery that draws Mercy's stepdaughter Jesse into the fray!
The supernatural romance series Mercy Thompson continues in this all-new, original story by New York Times bestselling author, Patricia Briggs, exclusively created for the comic book medium! 141 of Mighty Avengers vol.
Iron Man is rebuilding the Avengers with a handpicked roster of Earth's mightiest. A group this powerful should be ready for just about anything except, perhaps, the return of genocidal killing machine Ultron. The CIA has created an elite team of telepathic agents dedicated to fighting domestic terrorism. But as Connor and the rest of his crew take to the streets, can they handle the dark thoughts buried inside the minds of'we the people? Aspen's newest hit series, MINDFIELD, comes to you courtesy of creator J.
Krul who blends together a world of action and intrigue the likes of which you've never seen! In addition, it includes a mini choose-your-own-adventure story woven in throughout the book. This is the first-ever collection of this long-running strip, and each strip was hand-chosen by the creator for inclusion. Mary's father runs a sleep disorder clinic where Mary enters the ghastly dreams of severely disturbed people in an attempt to help them.
When a patient is revealed to be a serial killer, the nightmare world and the waking one become intertwined, putting Mary in real jeopardy. Set in a world where the boundaries between dreams and reality are tenuous, Night Mary, courtesy of Rick Remender and Kieron Dwyer (Remains), is a very dark and terrifying trip into psychological horror. Awaiting them is a mysterious bard with a dangerous scheme: to break into the dungeon of a powerful death cult in search of treasure. For these five desperate criminals, it's the last chance for hope in a city of corruption and despair. But what they find instead is an undead army preparing to conquer the world. Now, they must fight to protect the city that pushed their backs to the wall, or watch it burn. You are the same old turgid, miserable, lonely loser you've always been. But when it comes to superpowers, apparently you can indeed have too much of a good thing. With everyone able to destroy tower blocks with a single punch, any minor fracas escalates into a city-leveling combat, and the world is now in ruins as terrorism and war threaten the very survival of the planet.
What's needed is a return to normality, to devolve back from Superhuman to just human - and there's only one man for the job: down-at-heal, divorced New York plumber, Michael Fisher. 104 of Penny Arcade vol. Penny Arcade, the comic strip for gamers, by gamers is now available in comic shops and bookstores everywhere. Not familiar with Penny Arcade?
It's only the most popular comic strip on the web. It's the funniest, most twisted comic that ever lampooned gamer culture, and takes shots at everything from Star Wars to Steve Jobs.
Experience the joy of being a hardcore gamer as expressed in vignettes of random vulgarity and mindless violence! 173 of Project Superpowers Chapter Two vol. Collecting Project Superpowers: Chapter 2 issues #0-6 in one trade paperback collection. Join Shine, a young but unyielding teenage girl, as she races to find the true story behind the tragedy that wrecked her family, and shattered the sport of Bonk Racing to its core. Along with her trusted technician, Gabbo, and her sentient Bonk Racer, Shiza, she will discover that learning the truth about her future is as dangerous as the tragic past she is trying to forget!
Told in a series of legs within the race of all races-the Super Bonk Rally, this series spans amazing landscapes and death-defying terrain, as these racers go Psycho Bonkers! The band's colorful lyrics and gorgeous, full bodied melodies have provided Image Comics with the inspiration for a new kind of comic anthology. With Put the Book Back on the Shelf, a stellar collection of independent comic creators and cartoonists put their own spins on a cross section of Belle & Sebastian's songs, crafting stories inspired by the band's music, drawn from the band's entire catalog. In their first graphic novel, the Rabbids invade museums, horse races, and even play golf on the moon with a series of non-stop gags that showcase their charmingly surreal stupidity out amongst the rest of the world.
Led by the artificial intelligence called "Father, " the island nation of Japan has expanded out of the Pacific and into geosynchronous orbit with the ravaged Earth below. With billions to feed and protect, it has fallen to one solitary guardian to enforce the law of Father's empire - the mysterious folk hero known as Rai. They say he can appear out of nowhere.
They say he is a spirit... But when the first murder in a thousand years threatens to topple Father's benevolent reign, Rai will be forced to confront the true face of a nation transformed... And his own long-lost humanity. Collects issues #1-4 of Rai, an all-new vision of the future from comics superstars Matt Kindt and Clayton Crain.
A group of savage mercenaries hired to hunt and kill Sonja come across campfire tales of her at every turn... And Sonja does not like to be hunted. Tamora Pierce, Mercedes Lackey, Marjorie M. Collins, Kelly Sue DeConnick, Rhianna Pratchett, and many more tell fascinating bits of Sonjas legend, with a wrap-around tale by Simone herself, and art by the likes of Phil Noto, Jim Calafiore, Jack Jadson, and others. Collects Legends of Red Sonja issues #1-5, the script to issue #1, concept art by Jack Jadson, and more!
Volume 1 contains five amazing stories featuring bullets, babes, murder & mayhem, all from the driver's seat of a car that exudes muscle and power. Exclusive bonus material includes a new color cover gallery, character designs, pin-ups, commentary, plus a foreword from industry legend Howard Chaykin! Featuring the top talents in comics, this graphic novel is perfect for those new fans of the CW's Riverdale TV series, debuting in January 2017. Timed alongside the first episode, it captures the New Riverdale that inspired the show and is a guide for new readers to explore the variety of Archie comics and graphic novels available. READ THE STORIES THAT INSPIRED THE NEW CW TV SERIES!
In the past two years, the little town of Riverdale has changed in a number of amazing ways. The entire Archie universe has been given a fresh coat of paint and it's only getting bigger and better from here.
Road to Riverdale presents to readers all of the first issues of each of our new series so far, including Archie, Jughead, Betty and Veronica, Josie and the Pussycats, and Reggie & Me, timed to the release of the brand new CW series Riverdale. This graphic novel features riveting stories and dazzling artwork from superstar writers and artists like Mark Waid, Adam Hughes, Marguerite Bennett, Fiona Staples, Chip Zdarsky and much more. You won't want to miss out on this one-of-a-kind collection that shines the spotlight on the New Riverdale, and serves as the ultimate guide for both new readers and long-time fans. The Rogue One crew makes the leap from the big screen to the comic-book page in this action-packed adaptation! All looks lost for the galaxy when the Empire's new super-weapon is discovered: any insurgency will quickly be thwarted by the devastating new Death Star!
But maybe there is hope for the Rebel cause when Jyn Erso and Cassian Andor lead a crew of new heroes on a desperate mission to steal the plans to the planet-destroying threat! A crucial tale in the Star Wars saga is told at last! COLLECTING: STAR WARS: ROGUE ONE ADAPTATION 1-6. When this group of super-powered teens discovered that their parents were actually villains, they ran away from home... But that was only step one!
Now that the evil Pride is gone, nearly every bad guy in the Marvel Universe is trying to fill the power vacuum in Los Angeles, and the Runaways are the only heroes who can stop them! Plus: What does a mysterious new team of young heroes want with the Runaways, and which fan-favorite Marvel characters are part of this group? When a dangerous alien invades Los Angeles, the Runaways' own Karolina Dean may be the only hero in the Marvel Universe who can stop him... Plus: The Runaways embark on a coast-to-coast adventure, guest-starring Cloak and Dagger and the New Avengers!
When Cloak is accused by his fellow heroes of a crime he didn't commit, the vigilante is forced to turn to the teenage Runaways for help. This story will take our teens to a place they've never been: New York City! COLLECTING: RUNAWAYS (2005) 7-12, FREE COMIC BOOK DAY 2006.
The secret super-villain society is back, but this all-new group isn't made up of the Runaways' evil parents. Who are these shadowy players, and what do they want with the Marvel Universe's next generation of heroes? Plus: When the youngest member of the Runaways is separated from her teammates, Molly Hayes must survive a night alone on the mean streets of Los Angeles! The eleven-year-old mutant soon hooks up with a new group of runaways, but is their mysterious leader a hero or a villain? The world believes they are dead But, in reality, their private jet crash-landed on a mysterious, unknown island ruled by prehistoric creatures from another time This is the story of how they lost their humanity.
Clay Moore (Aloha, Hawaiian Dick), and explosive artists Clayton Henry (ARCHER & ARMSTRONG) and Lewis LaRosa (BLOODSHOT REBORN) present a relentless epic of survival in a cold-blooded land ruled by instinct alone in the must-read debut of Valiants next major hero! Savage Dragon is the most cutting edge mainstream superhero comic ever created. In this very first story arc, we meet Officer Dragon, a brand new cop in a Chicago overrun with super freaks and crime lords. Creator Erik Larsen takes big risks with storytelling, characterization, and plot, infusing this series with violence, sex, and humor in a way previously unseen in the genre. He takes liberties no other creator can, and will surprise you at every turn.
This book retools and reworks the original trade paperback with more unpublished sketches and art! It's the mini-series that started it all! From the innovative mind of acclaimed movie producer Gale Anne Hurd, and written by superstar writer and visionary Scott Lobdell, comes this summer's biggest blockbuster new series -- THE SCOURGE! The skies of New York City are no longer safe. In mere hours, the greatest metropolis on the planet is turned into an island of horrors, as a virus rapidly advances throughout the city transforming its citizens into savage, bloodthirsty gargoyles!! Amidst the outbreak, one man, NYPD SWAT officer John Griffin finds himself as the last remaining hope to prevent the cataclysmic spread of the virus from the island, locating his estranged son within the chaos, and saving the city itself from complete annihilation! As storm clouds gather across the globe, American Military Intelligence meets with a certain Lamont Cranston, determined to beat a host of spies and assassins to the greatest prize of all... But what that might be, only the Shadow knows. Collecting the first six issues of the hit series written by Garth Ennis and drawn by Aaron Campbell, featuring a complete cover gallery with art by Alex Ross, Jae Lee, John Cassaday, Ryan Sook, Howard Chaykin, and more. IRIS is the perfect marriage of artificial intelligence and virtual reality, serving as the backbone for enhanced-reality contact lenses that provide users with an antidote to reality's many maladies. From pop cultureinspired fantasies to manifestations of their own imagination, users can see the world precisely as they wish.
Citizens of cView City are fitted with a pair of these ubiquitous lenses at birth as a means of ensuring societal tranquility. But when Aldaira teenage programming heiressgets a glimpse of life with her own eyes, the world she once knew will never be the same again.
Revealed here is the never before told tale of how the conflict between the gods began--from the assassination of Zeus in Olympus, to the goddess Hel tricking Thor into leading an army against her own father Loki, to the death of Ares and the plunging of the Pantheons into all-out war! Millions play the game, and this is the first time the backstory has been told! 46 of Sonic/Megaman: Worlds Collide vol.
And considering how hard they're fighting each other, it might be the last! Why are the heroes trying to take each other down? Wily know, and they're loving every minute of it! Get in on the ground floor with all-new cover art by the legendary Patrick "SPAZ" Spaziante and a script by key Sonic and Mega Man scribe Ian Flynn!
Worlds Collide 1 collects the first 4 issues of the epic 12-part Sonic the Hedgehog and Mega Man crossover event! What Peter Parker didn't know was that meant Gwen Stacy would only get to spend the rest of her life with him.
This is the story of how they fell in love. Or more appropriately, how they almost didn't fall in love. Welcome to Spider-Man's life. It's kind of amazing. So to get the girl of his dreams, he'll have to run the gauntlet of the Green Goblin, the Rhino, two Vultures and a mysterious man in the shadows controlling it all.
Join the Eisner Award-winning team of Jeph Loeb and Tim Sale (Superman for All Seasons, Batman: The Long Halloween, DAREDEVIL: YELLOW, HULK: GRAY) in the story about Peter Parker's first love, Gwen Stacy. Highlighted by the introduction of Mary Jane Watson, it is a critical moment in Spider-Man's life when everything was just coming together - only to fall apart.
So when Mim Bracca walks into her life with an open-and-shut case of a missing guitar, Dex is eager to get started, especially when the rock star pays her up front. But Dex soon discovers that it's not just the guitar that's gone missing... And she's not the only one looking for it. Months after mysterious corals drew 99% of humanity into the sea, a band of survivors ekes out a hollow existence on a remote British island. When two people are cast up on the beach, completely blue, but very much alive, the island is thrown into turmoil.
What is the secret behind the mass extinction event... And will this pair of altered humans prove our salvation - or our undoing?
Months after mysterious corals forced 99% of humanity to walk into the sea, a band of survivors eke out a hollow existence on a remote British island. When two people are washed up on the beach, back from the dead and with their biology completely changed, the survivors are thrown into chaos.
What caused the mass extinction event? How did these two return from the deep, when billions died?
And what dark forces have followed them back onto the land? Lastly, and most importantly, what is the coral, what does it want with the Earth... And what does it have to do with a man who went missing, shortly before the Sea-Sickness hit?
A modern day fantasy series from the creators behind Ultra and Girls! Praised as the fusion of Buffy the Vampire Slayer and Kill Bill! The speed and agility of a jungle cat... And the intelligence of a garden snail!
A hilarious, timeless parody of Conan The Barbarian and his musclebound ilk! These individual stories focus on Casey Jones, April O'Neil, Bepop & Rocksteady, and General Krang of the current ongoing series. Alex Barnaby and Sam Hooker are back together and fighting crime the only way they know how - by leaving a trail of chaos, panic, and disorder.
Alex, an auto mechanic and spotter for racecar driver Sam Hooker, is drawn to trouble like a giant palmetto bug to a day-old taco. Unfortunately, she's also drawn to Hooker in the same fashion. There's no steering clear of trouble or Hooker when friends Rosa and Felicia call for help. A man has gone missing, and in order to find him Barnaby and Hooker will have to go deep into the underbelly of Miami and south Florida, surviving Petro Voodoo, explosions, gift- wrapped body parts, a deadly swamp chase, and Hooker's mom. Locate and retrieve the daughter of a drug kingpin, and he can finally afford more than the one-dollar meatloaf. Unfortunately, the job offer arrives just as the symptoms of his fatal, late-stage brain tumor intensify. Frank must find the target and keep her safe while time collapses, family turns into foe, and the specter of his murdered wife resurfaces in the eyes of a mobsters daughter. Eisner, Harvey, and Emmy nominated writer Joshua Hale Fialkov joins Harvey and Eisner nominated artist Noel Tuazon in their second thrilling collaboration about the bittersweet joy of lost love and the sharp pain of redemption. But his hard-won cunning and survival skills face the ultimate test when man-eating Thunder Lizards attack his people! And will Turok use his abilities to save a society that's taken everything away from him? Prepare for history-twisting carnage from superstar Greg Pak (Batman/Superman) and Mirko Colak (Conan)! Desperate to avoid the consequences for his actions, he goes to Expedited Services, Inc.
Which offers to help him disappear and enjoy a life of leisure in a new life. But what exactly is this new life, how much is freedom worth, and what happens to the old life when someone else shows up to claim it? This is the first installment of three interlocking stories that will push the boundaries of The Twilight Zone into new and uncharted territory, a journey that will travel into the past and the future, into murder and revenge and the sunrise of nuclear Armageddon. Michael Straczynski, Hugo-winning creator of Babylon 5, writer for Thor and Changeling and World War Z as well as the 1988 Twilight Zone. She has a comfortable relationship, a decent job, and vague dreams for the future.
But now something has happened to her, something beyond understanding. She is suddenly able to hear thoughts and see glimpses of the future...
A future that includes the threat of a mushroom cloud rising over downtown Manhattan! As someone who has never had to stick her neck out for someone else, Diana must choose between her own safety and the lives of millions of others. Her decision will take her from the abyss of her worst fears to the summit of her courage... A journey that could only happen in The Twilight Zone. Includes a complete script for the first chapter of the graphic novel by J. Michael Straczynski, Hugo Award-winning creator of Babylon 5. Somebody is leaving behind a bloody trail of bite marks and Blade's stake-ready to take them on. Could the figure in an iron suit be involved? And what about the new figure leaping around in a devil costume?
By superstar creators MARK MILLAR (CIVIL WAR, KICK-ASS) and STEVE DILLON (PUNISHERMAX)! Collecting: Ultimate Avengers 3 #1-6. Gwen Poole used to be a comic book reader just like you... Until she woke up in a world where the characters she read about seemed to be real!
But that can't be, right? This must all be fake, or a dream or something, right? Could Gwenpool truly be Marvel's least responsible and least role-modely character to date? She can if she tries! COLLECTING: GWENPOOL, THE UNBELIEVABLE 0-4.
But only one last chance! Born with an uncanny ability, he can steal other people's memories, abilities, and expertise for a limited time. A man with a power like that could change the world, but as a professional gambler, con-man, and thief-for-hire, Weaver prefers to look out for Number One. That is, until he finds himself drawn into a dangerous game of international intrigue where the rules keep changing, the players are hidden, and the first thing he stands to lose is his life. And maybe, just maybe, he isn't so unique after all...
The world's most dangerous man, Toyo Harada, has been struck by the one thing he never thought possible - fear. Halfway across the globe, a new power threatens to topple modern civilization and, to preempt the cataclysm that is to come, Harada will unite the most unforgiving team the world has ever known - UNITY. Their mission: defeat the threat responsible for the destruction of MI-6, the decimation of an alien world, and the occupation of Eastern Europe...
Unseat the warrior king armed with the universe's most powerful weapon... Celebrate 25 years of the largest independent superhero universe in comics with these all-star explorations of Valiants indelible comics book icons, including X-O Manowar, Harbinger, Bloodshot, Archer & Armstrong, Shadowman, and many more! Who they are, how they came to be, and what they fear the most! This is your essential one-stop guide to the biggest heroes, villains, and super-teams that the Valiant Universe has to offer, just in time for Valiants 25th Anniversary Celebration! Collecting Archer & Armstrong #0, Bloodshot #0, Harbinger #0, Punk Mambo #0, Quantum and Woody: The Goat #0, Shadowman #0, Unity #0, X-O Manowar #0, and material from Archer & Armstrong #25, Bloodshot #25, Harbinger #25, X-O Manowar #25, and FCBD 2014: Valiant Universe Handbook #1. Vampirella is sent by the Vatican to investigate the kidnapping of a little girl by Ethan Shroud and the Chaos Cult, only to become the centerpiece of a ritual invoking Lady Umbra, the sister-bride of Chaos, that leaves her marked as a living sacrifice to the dark goddess who rules the shadows. Hunted by the Mallus Maleficarum, an elite hit-squad of monster-killers also known as "The Witch-Hammer", she finds her world abruptly turned upside down... And herself unexpectedly allied with the strangest bedfellow imaginable! 108 of Van Helsing vs. 624 of Warlord of Mars: Dejah Thoris Vol. So what was Dejah Thoris doing all those hundreds of years before John Carter arrived? Four hundred years before the events of Warlord of Marstook place, Dejah's nation of Helium was divided into two warring city-states.
An unscrupulous overlord from afar encouraged that rivalry to his own advantage, until he discovers a terrible secret from Mars's ancient past beneath Dejah Thoris' capital. A secret to kill for! Collecting the first five issues of the hit series in one volume, with bonus material and a complete cover gallery from artists such as Art Adams, Joe Jusko, Paul Renaud, Sean Chen, and Ale Garza. After Matthew's brother and playmate, Alex, disappears, Matthew finds himself carried into Toyland by his own loyal toy soldiers.
Matthew soon learns that Alex has been here, too, held captive by Roxbury. Leading an attack on the teddy bear's fortress, Matthew never considers that his brother might be beyond saving. 213 of Weirdworld TP Vol.
A world of swords and sorcery and strange, perverted science. A world where one barbarian walks alone, on a dark and savage quest through all things weird and fantastic from throughout Marvel history.
A lost man in a lost world. Follow him if you dare.
Most of those infected die horribly, said to have drawn the Black Queen as their fated card. Ninety percent of those who survive mutate into Jokers deformed, broken, hated, and feared.
But a handful are lucky enough to become Aces, gaining superpowers that allow them to achieve almost anything the mind can conceive both in dreams and in nightmares. Sixty years later, an Ace named Croyd Crenson, better known as the Sleeper, is framed for the murder of a young nurse in New York City's Jokertown. As Crenson investigates the killing to clear his name, he has to fight to stay awake, or else his unusual ability will change him into something else entirely. Meanwhile, a group of teenagers in Whiteoak, Colorado, accidentally activate the dormant wild-card virus, wiping out nearly the entire town. As the teens are sent to the Jokertown clinic, they discover that not all Jokers are bad and not all Aces are good.
Set in the world of the novels edited by George R. Martin and featuring a brand-new set of characters, as well as appearances from many old favorites, Wild Cards: The Hard Call is an original story written specifically for comics that will enchant new readers and old fans alike. In this action-packed tale spinning out of author James Pattersons' bestselling novel, Witch & Wizard, sibling teenagers Whit and Wisty Allgood use their newly discovered magical powers to infiltrate the enemy territory of the New Order to gain control of the inter-dimensional Shadowland.
In California, now a wasteland controlled by the evil Hulk Gang, the former Wolverine seeks to live in peace. He's retired, finally free from the violence of his former existence as an X-Man, and he wants to keep it that way. If only they'd let him. Now, Logan and an aged, blind Hawkeye are forced into a cross-country jaunt through villain-ruled lands, on a collision course with the worst of them all!
Can Old Man Logan maintain his pacifi st vow, and make his last stand without doing what he does best? Mark Millar and Steve McNiven unite for a riotous romp through a future world of death, despair and dynamic action! COLLECTING: WOLVERINE 66-72, WOLVERINE: OLD MAN LOGAN GIANT-SIZE. Aric of Dacia is a brash warrior and heir to the throne of the Visigoth people. He has lived his life under the heel of the Roman Empire, but now a far more terrible enemy has come to subjugate him.
Taken from his home and family, Aric is enslaved aboard a starship belonging to a brutal race of alien colonizers known as The Vine. If he is to have any hope of escaping and returning to Earth, he will have to steal the Vine's most powerful weapon a sentient suit of indestructible armor and become X-O Manowar! This volume collects the first four issues of the acclaimed, breakout series by New York Times bestselling author Robert Venditti (The Surrogates, The Homeland Directive) and Eisner Award-winning artist Cary Nord (Conan)! An invasion fleet is on its way and the only weapon in existence powerful enough to defeat it is the X-O Manowar armor.
To pinpoint The Vine's weaknesses, Aric will need to enlist the help of the master weapons specialist charged with taking him down the feared and formidable Ninjak. Born under the oppressive thumb of the Roman Empire, Aric of Dacia learned warfare at an early age. It was amid such violence that he was abducted by an alien race.
Forced into slavery, he survived where others perished. His escape would come from bonding with a weapon of immeasurable power: the X-O Manowar armor. But that was a lifetime ago. Now, far from home on a strange and primitive new world, Aric has begun a new life. Liberated from his past, he tends to his crops.
But the machinery of death marches his way once again. Conscripted into an alien army and thrown into an unforgiving conflict, the fury inside him finds voice as he is forced to embrace the armor once more. With it, he will decimate armies, topple empires and incite interplanetary warfare as he rises from SOLDIER to GENERAL to EMPEROR to VISIGOTH. He will give them war! Join master storytellers Matt Kindt (DIVINITY) and Tomas Giorello (BLOODSHOT REBORN) right here for a stunning new beginning for Valiants most enduring icon. Collecting X-O MANOWAR (2017) #13. Along its journey, the 17-foot shark encounters natural prey and predators from skittish seals to brazen orcas as well as man-made impediments that threaten not only the giant fish, but the balance of oceans ecology.
The item "34,468 graphic novels/TPBs/HCs wholesale lot bulk deal ($570,989.99 value)" is in sale since Monday, April 8, 2019. This item is in the category "Collectibles\Wholesale Lots\Comics". The seller is "cyberspacecomics" and is located in Port Jervis, New York. This item can't be shipped, the buyer must pick up the item.