B Grade Tri-Flow Obsidian Rough! Old Stock Lapidary Wholesale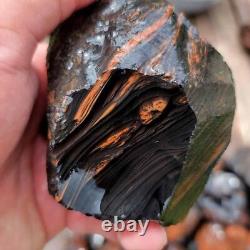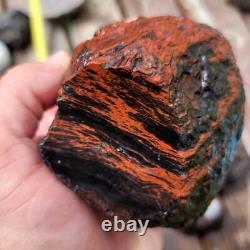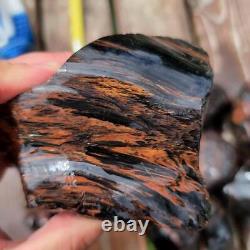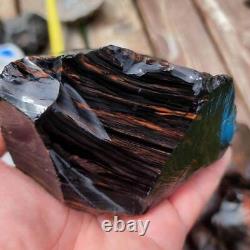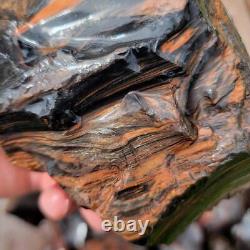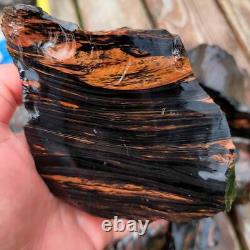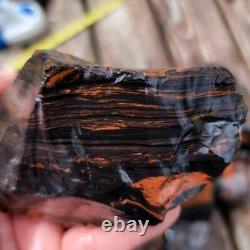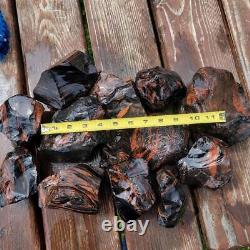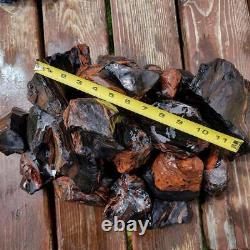 Photos are taken with the stones wet. This helps you see their potential once polished. These are raw stones, the majority are uncut and unpolished.
This is for B Grade Tri-Flow and Mahogany Obsidian Rough. Each one is showing decent pattern, with no junk present. When cut right, Tri-Flow Obsidian can sometimes have silver or gold sheen. Obsidian is a form of natural volcanic glass, created by rich felsic magma flows high in silicon and lighter elements.
All Lapidary Central Obsidian is 100% guaranteed to be natural! Wholesale Old Stock B Grade Tri-Flow Obsidian, mainly from Glass Butte Oregon and Davis Creek Washington. Obsidian from other places such as Utah, Mexico, and Armenia are possible.
This B grade Tri-Flow obsidian is showing a decent amount of magnetite. A decent percent of the stone should have color, but some black will of course exist. This material is some of the best knapping material on the market! Native Americans used this material for knapping for countless generations when they had this material available. It breaks extremely sharp and can be done with precision, which makes it the perfect material for arrowheads.
These can be great to tumble! If you do not have a big enough tumbler, we recommend breaking them down with a hammer (wear gloves and eye protection please), and then tumbling them in a rotary.
We personally do 80 SiC grit in a rotary tumbler for 2 weeks, then switch to a vibratory tumbler for 220 grit SiC, followed by 500 AO, and we finish with Cerium Oxide. This process gives a perfect shine! There is also a fantastic guide on the rocktumblinghobby forums online!
Obsidian is known to be a member of the Root Chakra. It is known to bring balance, high self esteem, and to give a sense of safeness. It is often one that is recommended to keep in places you often frequent. It is also considered to repel negative energy.
All in this listing are random pull. One pound is often about a handful, and generally includes 2-5 chunks, but can sometimes be more or less. Photos shown are a representation on the grade. There are multiple sizes available. If you are looking for a certain size, or have a certain purpose you want us to select for, please message us or add notes to the order and we will do our best to accommodate those requests!