Gold Cotton Filled Jewelry Gift Box Craft Collectibles Packaging Boxes Wholesale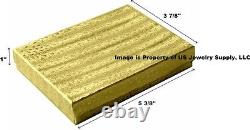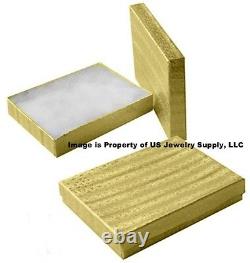 New gold foil cotton filled 2 piece, lid and base, cotton filled jewelry gift packaging boxes. Each box, base and lid, count as 1 box. Choose gift box size and quantity of gift boxes from the drop down menu.
Uses for these gift boxes include packaging and storing jewelry as well as many collectible or craft items. 1 7/8" x 1 1/4" x5/8 Our smallest box suitable for charms, small earring and band rings. 2 1/8" x 1 1/2" x 5/8. Use this for smaller items such as rings, charms and earrings.
2 5/8" x 1 1/2" x 1 This size is suitable for larger earrings, rings and many pins and brooches. 3-1/4" x 2-1/4" x 1 Medium sized box normally used for smaller necklaces with chains, pins and brooches.
3 1/2" x 3 1/2" x 1 Versatile size used by many for multiple piece sets and larger items. 5 3/8" x 3 7/8" x 1 This is used for necklaces and larger items. 8" x 2" x 1. This size is commonly used for bracelets and chains.
7 1/8" x 5 1/8" x 1 1/8 This size is used for larger pieces as well as jewelry sets. 3 1/2" x 3 1/2" x 2 This size is a deeper box for thicker and larger items. Assortment contains 20 pieces of each of the following 5 box sizes. (2 1/8'' x 1 5/8'' x 3/4''H) (2 5/8'' x 1 1/2'' x 1''H) (3 1/4'' x 2 1/4'' x 1'') (3 1/2'' x 3 1/2'' x 1''H) (8'' x 2'' x 1''H). Please read this important information.
If you need longer, please let us know. We want your shopping experience with us to be easy and hassle-free.
We guarantee our items to be as described and free of defects. Any problems should be reported to us within 72 hours of receipt of your item.
We are not responsible for incidental or consequential expenses.