Harley Quinn! Margot Robbie Hand Signed! Suicide Squad Comics + DVD + Free $hip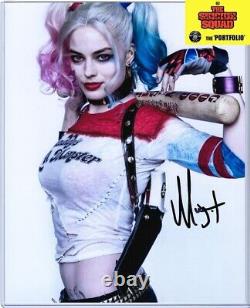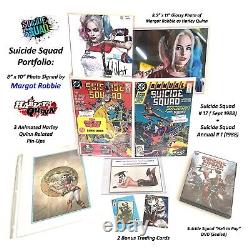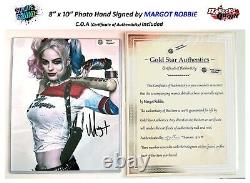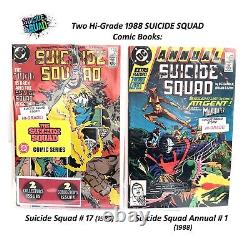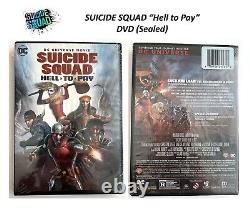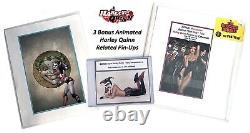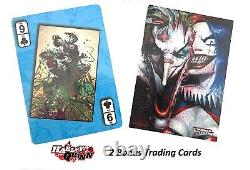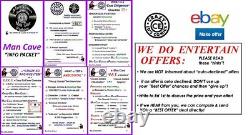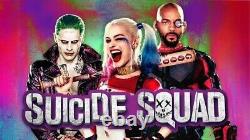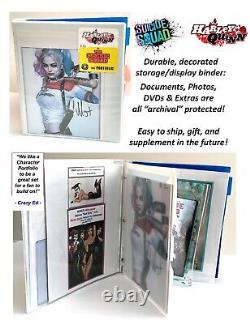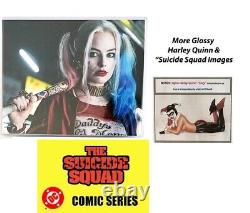 NOW, Crazy Ed's Comics and Collectibles has a "new persona". MAN CAVE GALLERIES and PORTFOLIOS by Crazy Ed. A SUICIDE SQUAD: Featuring Harley Quinn.
A Multi-Image signed gift set. 8" x 10" Color Movie Photo signed by Margot Robbie.
3 Harley Quinn Animated Pin-Ups. "Suicide Squad: Hell to Pay" (DVD- Sealed). Suicide Squad Annual # 1.
Presented in a Collectors Decorated Shelf Ready Storage Binder! Not Offered for Sale by ANYONE ELSE except MAN CAVE GALLERIES. Our "questions and answers" process is comprehensive. We apply professional standards of forensic authentication and include all research and history to confirm our "authenticity" findings.
See Ed's "Due Diligence " checklists, questions and collector tips " Man Cave Info Packet ". Please double check the pictures- these the ACTUAL items you will receive. Please read "BEST OFFER HINTS".
Pictured in Gallery of Pictured above! It can be sent to a 3rd party as a gift set, and can include as personalized note to the gift recipient. Additional item cost will be quoted on request. This will be done by your request, and we will take every precaution to deliver the item(s) safely.
Included: is a 3 ring table-top (or "shelf ready" collectors' presentation). Also known as a "Man Cave Galleries"' V.
Folder--short for "VALUE ADDED TREASURES" described in the Man Cave Info Packet. A'decorated' school sized Binder notebook, included (see it pictured in the gallery), it contains all the "PICTURES, SCANS & DOCUMENTS" as shown here. It will enhance the value and fandom appreciation for this excellent gift set, or help refresh memory of the modest investment, made for long term storage.
Here are our stated return guidelines. Our unique items are not returnable for reasons such as "changed mind", "found it cheaper elsewhere", or didn't want.
If a return can be avoided we want a chance to hear the problem. If a media item (DVD, toy, etc) or a bonus is damaged somehow, we may offer a goodwill credit or send a replacement "bonus" item. If a CGC or other 3. Note: These signed items meet industry standards for "Lifetime Guarantee" autographs; Man Cave Galleries gift or signed item sets are composed only of items obtained by highly reputable vendors of authenticated signed items. The 3rd Party verification(s) and guarantees that accompany these items are subjected to a "due diligence" verification by Man Cave Galleries; our standards and documentation (See Man Cave "INFO PACKET") requirements are included with every sale.
We are BIG on customer service and want you to be happy you dealt with us: but these are reasonable "requirements" for our mutual safety and benefit! Thanks for being our customer!
2022 Crazy Ed/Crazy Ed's Comics as to listing content/info.