IMCO Unopened Box of 12 IMCO Junior 6600 Made in Austria Authentic Triplex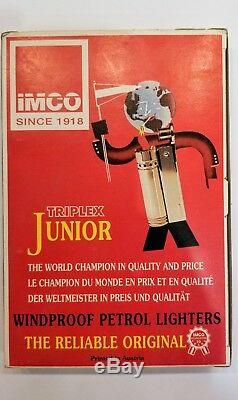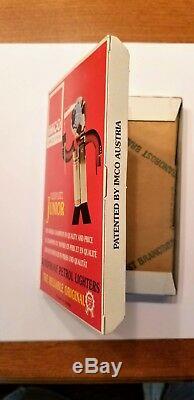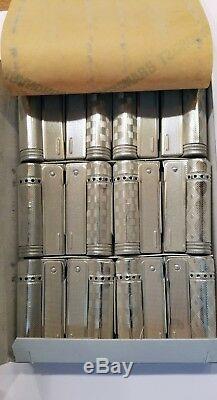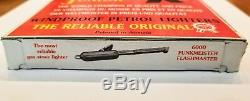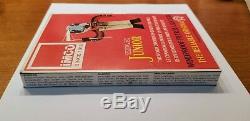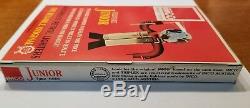 Box of 12 - New, Old Stock, Rare Vintage IMCO 6600 Junior Wick Lighters. These are rare and incredible lighters made in Vienna, Austria, and are no longer manufactured by IMCO, the original company. The IMCO 6600 line are collectors items in addition to being excellent lighters for all types of collectors, practicals, and lighter enthusiasts. This specific box is from 1994, a rare IMCO design and year.
It contains 4 x 3 designs. The box is "new", meaning the the lighters have never been touched, used, and the box has only been opened to ensure the lighters are in proper. The IMCO 6600 Juniors are water-resistant due to the design of the wick's sheath covering, made of steel and essentially airtight. They are wind resistant, and the flame canister can be taken out to be used as a candle to light fires, pipes, etc. Nothing has been changed or touched on the lighters.
They are Virgin untouched IMCOs meaning you will have to change out the flint (which is pretty much dust), clean it, dust it, and probably polish it. Make a great addition to a lighter collection and they are great for cigarette smokers, pipe smokers, outdoors-men, and the general population due to their utility and unique history. They are without a doubt one of a kind and my favorite type of lighter. Are small, classic, and are again, no longer made as the company shut down in 2012. There is European company that bought the patent to their fairly complex yet intuitive design; however, they are not original IMCOs.
Pricing is going up on these lighters! If you are an IMCO or Non-IMCO lighter enthusiast, you might already know this. Having an original box makes a huge difference!
Be aware : There are many Chinese fakes that try to pass off as original IMCOs, and they are getting better at replication. The easiest way to tell is if the bottom says "come of Vienna Austria" or some variation; however, many Chinese vendors put the correct labeling on the bottom and this is not the only way to identify an original.
Chinese versions should not cost more than several dollars, and their body and wick casing are entirety made of aluminum. True IMCO lighters have steel bodies with aluminum wick casings. You will see the extra flint that I have included. The box verifies the authenticity, and if you know what to look for, if shouldn't be to hard to tell.
As a side note, the bottom of many IMCOs say many different things. For the 6600 Junior IMCO style, they generally vary a bit with a few common texts such as "IMCO-Junior 6600 Vienna Austria" on the bottom. Some say IMCO-JUNIOR NE PEUT ETRE VENDU P. NE PEUT ETRE VENDU P. V translates as not for sale. Feel free to contact me if you have any questions. You can also choose to pick it up if you live in the area! As a short history, IMCO is credited with making the first "modern" lighter as we know them today. The lighters were first used as "bunker" lighters during WWI made from artillery casing. They have come a long way with the advent of cigarettes. They are similar to Zippos in the fact that they have a wick; however, are superior in that they light virtually always on the first try and hold fuel for several weeks due to the sheath that covers the wick. If you owned and have used a Zippo, you are probably aware that one is lucky to get a couple weeks at most before needing to refuel, unless you outfit them with rubber. Zippos can also have a tendency to leak and sometimes the fuel can aggravate your skin if you wear them for too long in your pants, especially if one over fills them. This does not happen with IMCOs as they are very well sealed, at least in my experience. They go fast, so don't miss out!
The item "IMCO Unopened Box of 12 IMCO Junior 6600 Made in Austria Authentic Triplex" is in sale since Monday, August 13, 2018. This item is in the category "Collectibles\Tobacciana\Lighters\Other Collectible Lighters". The seller is "erilingre-0" and is located in Poway, California. This item can be shipped to United States.
Brand: Imco
Type: junior
Country/Region of Manufacture: Austria
Color: Silver