Madagascar Mix -Large 2 3 Rough Rocks for Tumbling Bulk Wholesale 1LB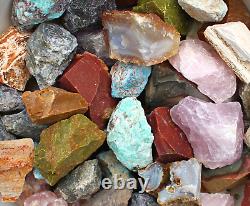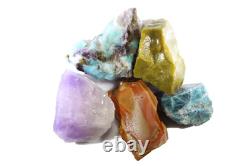 Use the drop-down menu to select either 1 pound, 3 pounds, 5 pounds or 11 pounds of rough stones! The photos are representative of the stones you will receive and are shown wet to give you a better idea of the color and how the rocks will look once polished. Our 13 Stone Madagascar Mix is an all natural mix of 13 stones from Madagascar. These stones range from 2.8 to 4.2 ounce (80 - 120 grams) each and are usually around two to three inches in length.
This is an excellent mix for all levels of rock tumbling and the various shapes and sizes of the stones in this mix lead to a great result in the rock tumbler. Approximately 6 - 7 stones in 1 LB.
Smoky Quartz, Rose Quartz and Milky Quartz aka Girasol Opal. We try to offer the best quality stones at the lowest possible price, so we have mixed the stones already and then fulfill your order by a random grab.
Since it is a random grab, you should receive an assortment of stones, but not every type of stone within the mix is guaranteed. Please note that metaphysical properties associated with our products are meant for informational purposes only and are not intended as a substitute for professional treatment or licensed medical care.
We will not be liable or responsible whatsoever for any adverse effects, consequences, loss or damage of any type resulting, directly or indirectly, from the use or application of any materials from our shop.