TOM and JERRY WB 100th Anniversary Series Blind Box Art Designer Toy Collectible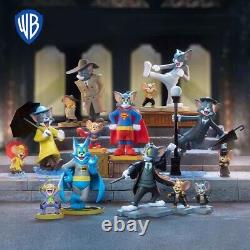 For sale are limited edition Super cute art designer figures. We can also source open/confirm boxes, if you are looking for specific figures, or would like the complete set.
We can not control the market value of the rare/popular figures. We will always try our hardest to find the cheapest price if the option is available. Own your own stunning TOM and JERRY - WB 100th Anniversary Series figure, or get the whole collection to display. Or get them as an awesome gift for a special friend or loved one. TOM and JERRY - WB 100.
100% New High Quality Figurine. Approx 9 cm/ 3.5 inch. Size and colours may vary slightly from photos. For sale are Blind Box.
Or choose a style from the limited stock available of opened boxes. Or One wholesale box includes 6 figures. 5 normal + 1 random figures.
The Wholesale Box has 6 figures in total, The box has all 5 normal figures, Plus 1 random figures. The random figures can either be normal or specials. Special figures are random and not guaranteed.