Wholesale lot of 10 Blue green yellow or Teal NEON chrome finish clock sign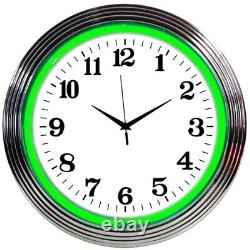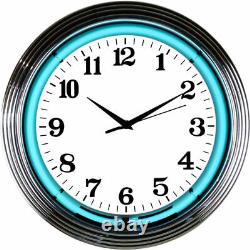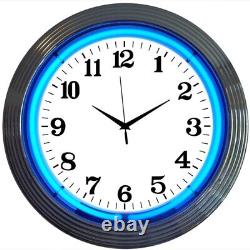 Wholesale lot of 10 Neon Clocks YOU choose the color.. Red or Green or orange or yellow. A chrome finished rim houses one beautiful, hand blown, real neon tube that accentuates a quartz clock. Comes Ready to Hang in a Game room or office.
High quality neon, top quality quartz clock movement, glass front and excellent neon. You get 2 case packs of 5 each neon clocks!!!!!! Please specify when paying how many of each color of neon clocks you want each.. Now they don't CHANGE color you just pick which color clocks you want..
Like you can get 10 red neon clocks or a mix. The clock plugs into a standard 120V AC wall outlet and the clock operates off of a single AA battery. Face can easily be changed for customization at your location. The dimensions for the piece are 15" W x 3" D.